Automatic, Touchless Doors Can Help Slow the Spread of Coronavirus
In addition to help reduce virus transmission, automatic and touchless doors offer the benefits of convenience and durability.
OTHER PARTS OF THIS ARTICLE
Pt. 1:
Access Control: Closing the Door on the Coronavirus
Pt. 2: This Page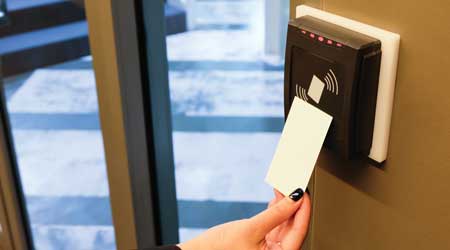 The ideal approach to limiting the transmission of the coronavirus and other viruses at building entrances is to make the operation of the doors completely hands-free. While automatic door operators have been available for most door configurations, they have not been widely used in facilities. They are more expensive than manual doors, but they are not cost-prohibitive.
Automatic door operators offer several advantages in addition to reducing the chances of transmitting the coronavirus. They make it more convenient for people entering and exiting a building, particularly those carrying packages. They reduce the risk of people getting hit by closing hinged doors or having fingers caught between a door and its frame.
In high-traffic areas, automatic door operators have been more durable and less disruptive to traffic flow. While they are not maintenance-free, they reduce the stress levels that hinged doors must withstand, particularly at high-use entrances or when users block the door open.
There are four basic types of automatic doors – swinging, sliding, folding and revolving. Managers can specify any of these types to reduce the need for physical contact with the door, basing the selection on the constraints of the application. With the range of relatively low-cost options available to managers, most doors – including those constructed from wood, metal, or glass – can be converted from manual to automatic operation.
While many facilities feature automatic doors, few of them are truly touchless. Most automatic doors require an activation device, such as a key, keypad, push plate or card scanner. These devices reduce but do not eliminate the need for physical contact between the user and the door hardware.
Managers have options for making door operation truly touchless. The simplest technology option is the motion sensor. Most sensors use infrared, microwaves or ultrasound to detect an object moving toward the door and activate the door operator. The sensor's range of the sensor can be adjusted up to 10 feet from its location.
They are most suitable for use in applications with high traffic levels, including public facilities, commercial and government office buildings, schools, airports and supermarkets. Their biggest drawback is that some sensors cannot differentiate between a person walking toward the door and another object, such as an animal. Motion-sensor door operators do not provide any level of access control.
Another touchless option is the wave-to-open switch. These switches use infrared or microwave technology to detect motion, typically within 4-5 inches of the switch. The switch then signals a standard door operator. A simple wave of the hand near the sensor is all that is required to operate the switch.
By requiring a positive action on the part of a person entering a building, wave-to-open switches reduce the frequency of unintended door openings caused by wind-blown debris. As with motion-sensor controlled doors, wave-to-open switches do not provide any level of access control. They are best suited for applications with moderate levels of traffic.
To limit access through doors while maintaining touchless operation, managers have several options. Occupants can swipe keycards or fobs in front of the access control reader. The access control system then validates the keycard or fob and operates the door. The system offers the additional advantage of tracking who enters the building and when they enter.
Occupants also can use smartphones for touchless operation. An app communicates via Bluetooth with the reader. The user just has to swipe the phone near the reader. As is with the key fob system, the smartphone access control system operates the door and tracks entry activity.
Putting it all together
Converting building entrances to touchless operation can be a significant challenge for managers of facilities that have multiple entrances. Technicians will have to install door operators and touchless readers. In the case of systems using keycards, fobs or smartphones, managers will have to distribute devices or ensure phones are updated with apps. Most importantly, managers will have to notify occupants of the changes being made and why.
If a building has a large number of entrances, managers should not try to make all upgrades at once. Instead, they should start with the most used entrances first because these entrances will provide the most benefit to building occupants and visitors. Other entrances with lower traffic levels can be temporarily restricted until they can be upgraded.
Starting slowly also gives managers a chance to test the effectiveness of the changes before committing to their building wide use. Using this approach, they can see which hardware works best with a particular type of door and the level of traffic it has to support.
James Piper, P.E., is a national consultant based in Bowie, Md. He has more than 35 years of experience with facilities maintenance, engineering, and management issues.
Continue Reading:

Access Control

Access Control: Closing the Door on the Coronavirus

Automatic, Touchless Doors Can Help Slow the Spread of Coronavirus
---
---
---
Related Topics:
Comments