Access Control: Closing the Door on the Coronavirus
Consider these no- and low-tech solutions as effective access control strategies to mitigate the spread of the coronavirus.
OTHER PARTS OF THIS ARTICLE
Pt. 1: This Page
Pt. 2:
Automatic, Touchless Doors Can Help Slow the Spread of Coronavirus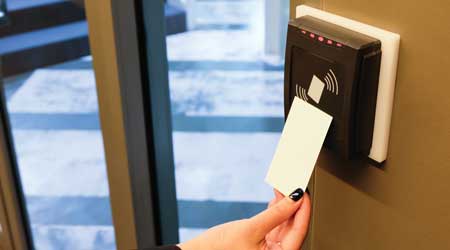 COVID-19 has changed the way maintenance and engineering managers look at their facilities and operations. The need for social distancing, mask wearing and thorough cleaning has led to the implementation of new procedures to keep employees and visitors safe and healthy. But focusing on procedures and surfaces only within a facility might be missing a critical element in keeping people healthy – building entrances.
Entrances to commercial and institutional facilities are the first point of contact for occupants and visitors. Research has demonstrated the ability of COVID-19 to survive for extended periods of time on different surfaces and materials – up to four hours on copper and even longer on plastic and stainless steel. Because plastics and stainless steel are among the most common materials used in the manufacture of door hardware, one contaminated door pull can spread the virus to numerous other people in just the matter of a few minutes.
That means employees and customers can be exposed to the coronavirus even before they enter a facility. Managers can turn to a number of solutions, ranging from no-tech to low-tech to high-tech. Not all options are suitable for all applications, but most give managers options when it comes to making building entrances safer.
No-tech solutions
No-tech solutions can be implemented without having to make any changes to doors or door hardware. Most are procedural.
For example, if a building has a number of entrances and at least one of those entrances includes automatic door operators, it might be possible for managers to keep the other entrances locked at all times and use them only for egress. This strategy might mean employees and customers have to travel farther to an entrance that features automatic doors, but it greatly reduces the risk of exposure.
Another no-tech solution is to allow maintenance technicians to prop open certain doors during periods of high traffic. Because building occupants do not need to touch the door, the chance of transmission is much lower.
But while propping open doors might solve door contact issues, it will create other issues. The tactic wastes energy, and it compromises building security, resulting in the need to post security personnel at the impacted entrances. But in certain instances, propping open doors is an effective measure.
Low-tech solutions
Most commercial and institution doors now in use are manual and require physical contact between the door hardware and occupants entering the building. One low-tech solution that allows users to open most doors is a key-shaped tool with a hook on one end. By hooking the device on the door handle, users can pull the door open without having to physically touch the door hardware.
Most of these tools can be used effectively on doors weighing up to 70 pounds. They typically cost less than $10 and can be attached to a user's keychain. A short tab on the devices also allows users to push buttons for door operators or in elevators, again with no physical contact with the hardware or control panel.
Perhaps the biggest drawback to these devices is the need for everyone who enters the building to carry one. Issuing them to employees could become relatively expensive and would not address the issue of visitors who have to enter the building.
Another low-tech device that can reduce operator contact with door hardware is the arm pull. Installed over the standard door pull, the device allows a user to use a forearm instead of a hand to open the door. The user's clothing prevents direct contact between the skin and the door hardware, reducing the chance of contamination.
Several different designs for arm pulls fit a range of door hardware configurations at a low cost. Users with access to 3-D printers can even download free printing blueprints from some designers, allowing them to print their own arm pulls.
One variation of the arm pull mounts on the bottom of a door and allows users to open the door using their foot. This version of the arm pull also enables users to avoid having to touch door hardware.
Continue Reading:

Access Control

Access Control: Closing the Door on the Coronavirus

Automatic, Touchless Doors Can Help Slow the Spread of Coronavirus
---
---
---
Related Topics:
Comments