8 Steps Can Improve Door Security As Risk of Crime Increases
A typical door has vulnerabilities that might be exploited to allow an unauthorized person to gain entry to the facility.
OTHER PARTS OF THIS ARTICLE
Pt. 1:
Why Facility Managers Need to Start Thinking About Crime Now
Pt. 2: This Page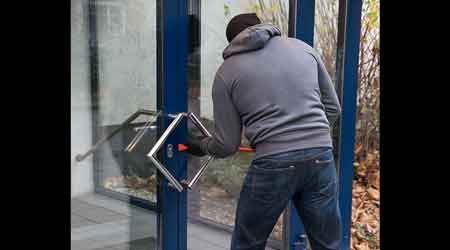 For facility managers who want to improve security in light of the economic slowdown caused by the COVID-19 pandemic, it is worth paying special attention to door security. A typical door — the type that you might see on any commercial facility — is fraught with numerous vulnerabilities that might permit access. Many steps can be taken to improve door security.
1. Illumination: Key to any security program is increasing the potential that a witness may observe the crime. The greater the illumination, the greater deterrence there is to an aggressor who cannot be sure whether any witnesses may be observing them. Consider LED lighting with a wide dispersal lens that is mounted 10 feet above the door. Illuminating the interior of facilities may give the impression to those with malevolent intent that someone is there.
2. Access control: Many existing access control cards are susceptible to cloning or spoofing. Cloning is the act of duplicating an access control card, which can be accomplished quite easily. Spoofing relies on brute force: rapid Wiegand code generation on a 125 kHz frequency with the goal of randomly accessing the right code to access the door. Consider moving to a higher security credential that is based on encryption. It is also worthwhile to use tamper screws to prevent access to exterior readers. Facility managers should also ensure that the reader is alarmed. If you use a proprietary (self-monitored) system, consider "un-masking" and reporting all door alarms for vacant facilities. (Doors may be "masked" — that is, turned off during the day — to prevent false alarms.)
3. Add electrified strikes: An electrified strike prevents the use of the locking hardware's dead-pin, which delays latch manipulation. Any exterior door should be equipped with a strike/astragal cover plate that precludes access to the latch. Ensure that the reveal of the door (the space between the door and the strike plate) is not greater than 1/8 inch in width.
4. Exposed hinges: If hinges are not pinned or tack welded, the door can be removed from the outside. For better security, replace the hinges with a hinge type that interlocks when the door is closed.
5. Rapid-entry box: A rapid-entry box is required by code and is used by the fire department to access a building when it is not occupied. This device is quite easily defeated, and it is likely that this box contains an access control card or master key. Consider recessing and alarming the rapid entry box. And request the fire department to notify you if their master key is lost.
6. Handle: A handle is a convenient hand-hold, especially when picking a lock. Handles provide pry points to open doors. Removing handles will complicate the opening of a door if someone is trying to pick the lock.
7. Integrated core/keyway: An integrated core/keyway is easily manipulated or picked. Using an integrated biaxial/restricted key will greatly increase the time it takes to pick the door.
8. Video surveillance: Cameras that use conditional refresh should be forced to record images every second.
As the COVID-19 crisis moves into recovery, we need to be proactive about current and future environmental factors that may disrupt our organizations. In the words of Ben Franklin, "An ounce of prevention is worth a pound of cure."
Sean A. Ahrens (sahrens@aeieng.com), CPP, FSyl, CSC, is a resiliency leader/expert security consultant and security market group leader with Affiliated Engineers Inc., a multi-disciplinary engineering firm that provides security consulting, assessment and security design solutions for all types of buildings and sits on the board of the International Association of Professional Security Consultants (IAPSC).
Continue Reading:

Security

Why Facility Managers Need to Start Thinking About Crime Now

8 Steps Can Improve Door Security As Risk of Crime Increases
---
---
---
Related Topics:
Comments