You Might Like
On FacilitiesNet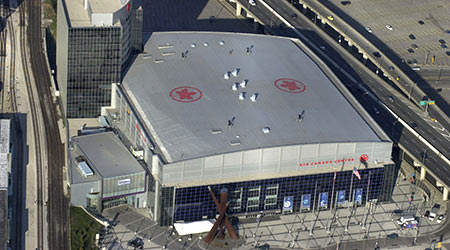 Roof Leak Delays Start of NBA Playoff Game
Inclement weather can lead to a host of problems that maintenance and engineering managers must address in a hurry. One of the most common problems heavy rains and precipitation can cause in commercial and institutional facilities is a roof leak. This was the exact problem at the Air Canada Centre in Toronto when the Toronto Raptors met the Washington Wizards in game 1 of the NBA Playoffs.

With Toronto experiencing heavy precipitation on Saturday (4/14), the roof at Air Canada Centre was leaking ahead of tipoff in Game 1, resulting in a brief delay in the opener of the Eastern Conference Quarterfinals, according to a report from MSN.

When a roof beings to leak, finding the leak's point of origin can become time consuming and frustrating. Seldom does the leak's point of origin stand up, identify itself and wave a white surrender flag. It often takes several attempts to identify and repair the breach that is allowing the water to enter the building. In most instances, a roof leak first identifies itself as a water spot on the floor or a wet ceiling tile.

For 15 minutes ahead of game time, water dripped from the roof all the way down to the court as managers and crews determined how to fix the problem.

Maintenance and engineering managers who understand leak detection can can quickly resolve the issue. The best time to chase a leak is when water is still flowing. After it dries, staining might exist, but following the water path generally is easier when it is still wet.

The roof leak delayed the game while officials made sure the court was safe enough for players.

This Quick Read was submitted by Ryan Berlin, managing editor of Facility Maintenance Decisions.
---