Understanding Product Needs for Roof Coating Projects
Part 2 of a 4 part article on new-generation roof coatings
OTHER PARTS OF THIS ARTICLE
Pt. 1:
New-Generation Roof Coatings Offer Many Benefits
Pt. 2: This Page
Pt. 3:
Common Roof Coating Mistakes and How to Avoid Them
Pt. 4:
Spotlight on Roof Coating Manufacturers Association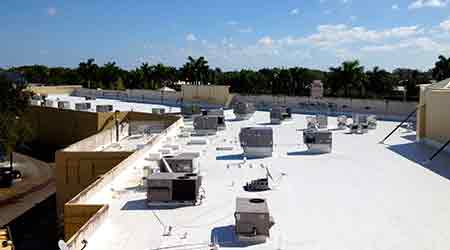 One ongoing challenge for managers specifying new-generation roof coatings is ensuring the product meets their needs related to surface compatibility, as well as ease of application and maintenance. For example, consider improvements in coatings designed to meet managers' demands for rain resistance and quick drying.
With new coatings, "There is less risk with the problem of wash-off," Martucci says. "Managers don't expect a problem with rain, and this helps minimize the chance of that happening. In many cases, it also allows the contractor to get off the roof in the same day because they can do two coats in one day. That's less interruption for the manager.
"With improvements related to ponding water and higher solids and silicone, you get better coating performance. They're longer-lasting, more durable, and you get longer warranties with them, as well. All of those help building managers meet their need for a good, durable product that they don't have to worry about."
Smith also emphasizes managers' need to find long-term solutions to roofing challenges instead of quick fixes that might or might not deliver the desired results.
"Managers' needs are, 'This can't be a Band-Aid. This needs to be something that holds my roof together,' " he says. "It needs to not only hold it together. It also needs to withstand all the punishment that the roof underneath it has endured for however many years. The coatings have to be more robust."
Properly specified and applied, coatings also can help managers meet the age-old demand to hold down costs.
"Managers with single-ply roofs approaching the ends of their lives face a decision on whether to tear off or recoat," Smith says. "A recoat looks more attractive financially than a complete tear-off and redo of everything. If they can build five more years into the life of the roof, and make it more reflective, and it's more durable and antimicrobial and highly reflective — you're going to get a little savings in the long run."
Coating characteristics
Managers ultimately will be most successful in specifying roof coatings if they better understand the key properties of roof coatings that enable the products to perform as intended on various types of roofs.
"Coatings over the years have gotten better in terms of adhesion and elongation," Martucci says. "They're better designed for the different roof types so they ultimately last longer. They're more durable, so you have companies offering longer warranties backing their products — a full-system warranty that covers materials and labor versus more of a limited warranty that just covers materials."
Martucci also points to coatings that offer higher levels of solids than their predecessors.
"The more solids you have, the more solids are left on the roof when the water or solvent evaporates," Martucci says. "They also allow you put down less material. With a typical 50 percent solids (coating), if you put down 1 gallon for a coat, that's 16 mils wet and 8 mils dry. But if you have (a coating with) 75 percent solids, obviously you're going to have 12 mils dry. Effectively, you can use less material and, in some cases, fewer coats. Instead of doing three coats, you can do two."
Manufacturers also are offering products, such as two-component coatings, with properties that address application challenges.
"Application-savvy contractors now are investing in specialized, two-component application equipment," Smith says. "They get a quick turnaround, so they're on the roof for a shorter amount of time pestering the manager and causing trouble that way. Two-component products cure faster and are a lot more robust."
Continue Reading:

Sponsored Section: Roof Coatings

New-Generation Roof Coatings Offer Many Benefits

Understanding Product Needs for Roof Coating Projects

Common Roof Coating Mistakes and How to Avoid Them

Spotlight on Roof Coating Manufacturers Association
---
---
---
Related Topics:
Comments