UConn Roof Project Offers Management Lessons
Renovation of UConn's unique and storied basketball arena offered lessons in project management.
OTHER PARTS OF THIS ARTICLE
Pt. 1: This Page
Pt. 2:
Roof Replacement: Assessing Challenges and Applying Strategy
Pt. 3:
Roof Replacement: Planning For Success
Pt. 4:
Roofing Specification: The Impact of Sustainability and Standards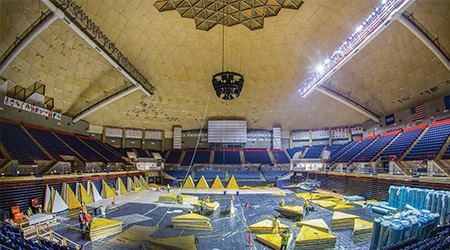 Harry A. Gampel Pavilion has spent more than its share of time in the spotlight as the college basketball home of the 11-time women's champion and five-time men's champion University of Connecticut Huskies. By early 2017, the facility also had spent more than its share of time in the sun, rain, and wind, and the condition of its hallmark domed roof had begun to deteriorate noticeably.
"The (dome's) interior has a fabric panel that is visible from inside the bowl," says Evan Feinglass, who is the university's associate director of athletics with facilities management and planning. "It was starting to get dry and brittle, and the interior fabric visible to the eye when you're sitting in the venue was starting to become brittle and crack and peel away. It really started to accelerate over the last couple of years."
The decision to address the dome's condition launched Feinglass and his department into a series of challenging decisions that offer lessons in project management, scheduling and resourcefulness.
Dome in the spotlight
The University of Connecticut built the 10,000-seat Gampel Pavilion in 1990, and in addition to women's basketball, the 250,000 square-foot building has hosted men's basketball and women's volleyball games, as well as special events, including commencement and concerts.
The domed roof, which rises to 130 feet above the court, consists of a network of 2,100 metal-clad panels with a fabric-wrapped insulated cover on the interior. Over the years, the fabric wrap had torn and flaked, and the exterior sealant was wearing off, causing leaks to become more common.
"There had been a variety of roof leaks that typically developed in the winter months from snow and ice peeling away and damaging the exterior structure and causing some leaks," says John Robitaille, the university's senior project manager with planning, design and construction. "Those typically were repaired from the exterior side to stop water infiltration.
"The (dome's) fabric panels aged over their 25 years, and the plasticizers within the fabric basically dried up and began to peel away and fall down into the seating bowl and the court below. The major thrust for the need to repair this was the interior degradation of the insulated fabric panels that wraps each one of the triangular units."
The decision to address the dome's condition arose from several factors, including attention from some high-profile campus figures.
"It certainly helped that we had a president and a board of trustees that noticed it, as well," says Feinglass, whose department oversees facility operations, grounds and game operations in buildings with a total of 621,000 square feet. "That helped push things forward. We'd been looking at it, and I'd been living it working with John trying to figure out, one, how do you even get up there to fix it? Then two, once you get up there, how do you fix it?"
Continue Reading:

Roofing

UConn Roof Project Offers Management Lessons

Roof Replacement: Assessing Challenges and Applying Strategy

Roof Replacement: Planning For Success

Roofing Specification: The Impact of Sustainability and Standards
---
---
---
Related Topics:
Comments