You Might Like
On FacilitiesNet
Roofing: Warranty Watch
Managers who know understand a roof's warranty coverage, terms and conditions can deliver an added layer of protection for facilities. Part one of a two part series.
OTHER PARTS OF THIS ARTICLE
Pt. 1: This Page
Pt. 2:
3 Steps To Protecting Roof Warranty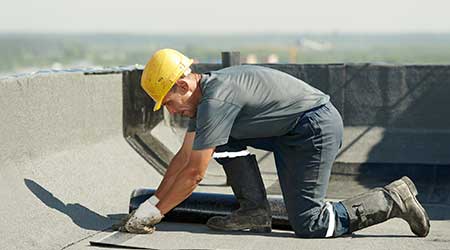 The hard work is over. You finally have a new roof system on your facility, and if all goes according to plan, it will last for many years.
A field representative from the roof manufacturer has checked the installation and given approval. The contractor has provided the warranty documentation as the last order of business before receiving final payment, and life goes on — until the first roof leak, that is.
But the warranty certainly applies, and repairs will not cost the facility, right? The answers lie in the warranty's terms and conditions.
Warranties 101
Roof warranties vary by duration, coverage, and limitation, depending on the manufacturer and type of roof, though most roof warranties contain essential elements regardless of the issuer. Warranties should clearly list the property address, building ownership information, installer, and roof sections or total roof area to which the warranty applies.
Many warranties also should list the type of roof assembly or specific products installed. The document should have a specific start and end date for the warranty to be in effect.
In terms of the number of years, thicker membranes — especially those installed in multiple plies — and premium shingles tend to have longer warranties, as do installations with more elaborate detailing at roof penetrations and edges.
The removal and replacement of all existing roof materials above the surface of the roof deck typically are worthy of increased years of coverage, as opposed to installation of a recovery system in which a new membrane is installed over existing materials that remain in place.
Managers need to remember that in a recovery scenario, warranties do not extend to existing materials or their attachment to the roof structure. They cover only those materials installed as new. If existing materials fail in some manner unrelated to new materials, such as detachment of underlying pre-existing components in a wind event, building owners could be responsible for repairs to old and new roofing.
Standard warranty coverage usually includes the manufacturer providing new materials or refunding the purchase price of failed roofing. This coverage only applies to product defects and can be limited in terms of years.
A typical, standard warranty does not cover a roof issue resulting from improper installation. Warranties that include coverage for leaks due to workmanship, as well as the labor required to correct those issues, sometimes are referred to as no dollar limit (NDL) warranties. NDL warranties usually stipulate a maximum wind speed that is permissible for an issue to be considered a warranted failure of the roof, and even those wind speed clauses can list exceptions for such considerations as poor substrates and damage as a result of foreign objects impacting the roof.
Most wind-speed limits do not approach hurricane-force winds unless the roof assembly includes certain features, such as an enhanced perimeter attachment specifically designed to counter increased wind speeds.
Myths and misconceptions
Some managers focus primarily on securing their warranty and speak of little else, while other managers do not think warranties are worth the paper they are printed on. The value managers place on warranties depends largely on perception, which sometimes is inaccurate.
For example, not all warranties are transferrable in the event of an ownership change, or they might only allow a one-time transfer between entities. A change of occupancy or building use can also affect warranties. Should an organization acquire a property with warranted roofs or change facility use, managers should review the warranty and take appropriate action, which could be notifying the manufacturer of the change and paying a small fee. The purchasing organization also might have to make repairs to the roof before the transfer takes effect.
Some warranties do not cover removal of overburden if the underlying membrane requires repairs, which is important with roofing issues at terraces, plazas, and other areas over occupied space that feature pavers or hardscapes that are not easily removed.
Vegetative roofs can present unique challenges related to the removal of interlocking tray systems, deep mediums and mature plantings. Owners might be responsible for removing and reinstalling these finishes, even if the membrane is addressed under the warranty terms, should overburden coverage not be included.
Perhaps the biggest misconception related to warranties is that the owner has little or no responsibility for maintaining the roof while the warranty is in force. Warranties are accompanied by or reference guides that managers should follow throughout the life of the roof. For example, vegetative roofs require watering and care to maintain, so managers should not expect them to be completely self-sufficient.
Following manufacturer guides keeps a warranty valid and is good practice to protect the investment and preserve the integrity of the roof system as long as possible.
Continue Reading:

Roofing

Roofing: Warranty Watch

3 Steps To Protecting Roof Warranty
---
---
---
Related Topics:
Comments