Roofing Myths Busted: Installation
Can a new roof always be installed over an existing? Can wet insulation be re-used? These and are roofing questions answered.
OTHER PARTS OF THIS ARTICLE
Pt. 1:
Roofing Myths Busted: Design
Pt. 2: This Page
Pt. 3:
Roofing Myths Busted: Inspections and Maintenance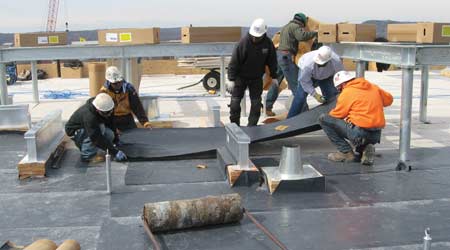 Hoffmann Architects, Inc.
Myth: There is no such thing as too much insulation
One would assume that the more insulation on a roof, the better it will perform. In fact, insulation beyond what is required can trap moisture under the roof and result in significant damage. Trapped moisture may cause a roof to warp or rot and can also allow for mold growth. It's important to review applicable building and energy codes to provide the proper amount of insulation.
Myth: Wet insulation can be re-used
Wet insulation is failed insulation. Once it becomes damp or saturated it is no longer performing its single function of providing thermal protection. Wet insulation can also cause deterioration in the roofing materials above and below, resulting in a total failure of the roof system. Wet insulation must always be removed and discarded prior to repairing, re-covering or replacing a roof.
Myth: Any contractor or handyman can install or repair a roof
As part of the roof selection process, manufacturers should be contacted to identify certified contractors and to determine the training requirements for contractors wishing to become certified installers. Specifying a product without hiring a contractor certified by the manufacturer may preclude issuance of a warranty. At best, an inexperienced contractor's efforts can incur additional expenses for time and materials; at worst, the roof system might be incorrectly installed, leading to premature failure.
The construction team also needs to be well versed in the basics of roof replacement procedures. Too often, "experienced" construction teams adopt practices they've used in the past in lieu of following design specifications, even when their methods are inappropriate for the situation or even unsafe. That's why a field representative, generally the roofing design professional, should be available to observe installation.
Myth: New roofing systems can always be installed over existing systems
The first decision to make in the reroofing process is whether to tear off the existing roof and start from scratch, or to leave the old system in place and lay the new one on top. The best results are gained from complete replacement, as this not only eliminates the possibility of trapping moisture in the old system, but it also allows for a thorough inspection of the roof deck. Before the new system is installed, any deterioration in the substrate, such as rusted steel or spalled concrete, can be remedied.
Recovering can be a viable option in some special circumstances. A recover project offers a lower cost and shorter project schedule than does a tear-off and replacement. As there are fewer removed materials, disposal is simpler and therefore more economical. And in cases where the contents of the building are so critical that they cannot be exposed to possible water damage for even a short time while the existing roof is removed (as in a museum or rare book library), recovering makes it easier to maintain a water-tight structure during reroofing.
A qualified roofing design professional can determine whether recovering is feasible by examining both the existing structure and relevant building codes. In general, the basic conditions to be met are as follows:
• The structure is able to safely support the added load of the new roof.
• There is no trapped moisture in the existing roof covering and insulation.
• There are no more than one or two (varies by local code) existing coverings on the structure.
• The roof deck is structurally sound.
• There is a means of positive attachment of the new roofing system to the building structure.
• Existing flashings are replaced when the new roof is installed.
• Fire resistance and wind uplift requirements are maintained.
• Flashing doesn't require attention until a new roof is installed.
Once the go-ahead for a recover project has been given, options for the new roofing system must be evaluated in terms of system compatibility. Manufacturers provide recover specifications which indicate how to prepare the existing system and how to attach the base of the new system to the structure.
As the adage goes, a system is only as strong as its weakest part. This is especially true when it comes to roof flashings. It is often assumed that, since most roof counter flashings are made of metal, they are strong enough to last for a significant amount of time before requiring replacement or repair. Many times, the flashings are only addressed when an entirely new roof is being installed. In fact, flashings can deteriorate quite quickly if not installed or maintained properly. Loose, cracked, or broken flashings can allow water to penetrate behind a wall surface or below a roof membrane. Periodic inspection of the flashings will allow for identification of potential issues before they become larger problems and result in leaks.
Continue Reading:

Roofing

Roofing Myths Busted: Design

Roofing Myths Busted: Installation

Roofing Myths Busted: Inspections and Maintenance
---
---
---
Related Topics:
Comments