Roofing: How And Why To Do Effective Preventive Maintenance
Roofing maintenance requires careful attention and must be documented accurately — the goal is to prevent problems before they become significant.
OTHER PARTS OF THIS ARTICLE
Pt. 1:
How To Conduct a Proper Roof Inspection
Pt. 2: This Page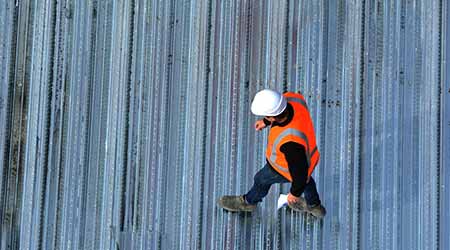 A roof maintenance program should be a systematic approach like any other mechanical system requiring maintenance. As with any other maintenance program, management should assign the duty of regular and routine inspections to a competent and trained person.
The maintenance program should include documentation such as inspection forms, photographs, notes and repair invoices to identify and record the issues note during the routine inspections and to provide guidance to the contractors who will complete the repair. The goal of a roof maintenance program is to identify problem areas and complete repairs before they become significant issues.
A properly maintained roof is necessary to protect the building and the business conducted within it. Building owners are responsible for the wellbeing of the buildings occupants and are liable for problems such as injuries that occur on the premises.
A neglected roof can create numerous safety concerns and have a negative impact on occupants. Deferred maintenance and repairs of a commercial roof can lead to leaks and water infiltration. Water damage alone can lead to severe injuries to the building occupants. Leaks can cause falling debris from sagging ceilings and walls, cause slips and falls and even lead to electrical shock. Water infiltration also can damage the insulation causing mold and fungus growth harming occupants health.
Cost-Effectiveness
There are many reasons not to neglect a commercial roof including financial and business productivity Many building owners put off repairs for the roof and neglect the roofing system because they think they are saving money, time and effort. Although, delaying repairs always translates into increase maintenance expenses. The interesting comparison is that with deferred roof maintenance, building owners will always pay more than they would have if regular scheduled inspections and maintenance were implemented. Addressing minor problems before they escalate maximizes the life of the commercial roof as well as minimizing headaches and expenses.
All roofs have a limited life span and will eventually require replacement, retrofit, repair or restoration, but implementing a roof inspection and maintenance program will further extend the life of the roof. The most important reason for establishing a program of regular roof inspection and maintenance is to protect the building owner's investment. A properly executed roof inspection and maintenance program will add years to the life of the roof by detecting minor problems before they become major, as well as providing better protection for, and avoiding interruption of, the internal functions of the building.
As a commercial building owner and facility manager, maintaining the roof is essential. Nothing can compromise the integrity of a building faster than the improper maintenance of a roof system. Therefore, the first item on the list for a building owner and facility manager is vetting potential commercial roofing contractors. It is imperative that the commercial roofing contractor follows best business practices including being legally licensed, bonded and insured, and receives positive client testimonials and provides a long business history with a proven track record.
Additionally, the facility manager should hire a commercial roofing contractor that has extensive experience with all types of roof systems from TPO to BUR-modified. If a roof system is installed that the roofing contractor isn't familiar with they run the risk of improper inspections and improper maintenance knowledge or may subcontract to a third-party roofer that may cost more.
Replacing a roof on a commercial building is a huge investment and rarely in the budget. Therefore, routine roof inspections and maintenance programs are extremely important. A successful roof inspection and maintenance program should consist of periodic inspections and regularly scheduled maintenance. Routine inspections and routine maintenance reduce ownership costs, reduce leak frequency and severity, extend the life of the roof and reduce maintenance inefficiencies.
Chad Brown (cbrown@roofingsands.com) is the Business Development Manager of RSS Roofing Services & Solutions in Evansville, IN. RSS is a nationally-recognized, design-bid-build roofing contractor covering projects of all sizes for the commercial, industrial and institutional markets.
Continue Reading:

Roofing

How To Conduct a Proper Roof Inspection

Roofing: How And Why To Do Effective Preventive Maintenance
---
---
---
Related Topics:
Comments