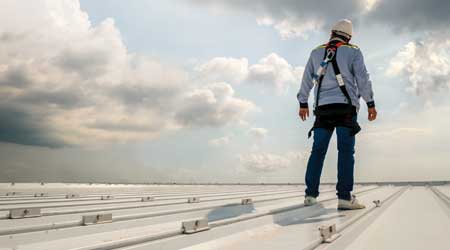 Roof Replacements: Understanding System Options
Ensuring project success requires that managers address timing, materials, warranties and post-installation maintenance
Today, roofing systems are available that meet virtually any project budget. Thermoplastics are well-suited to keeping material and installation costs down. Industry standards have gone to a 60-mil membrane with either inseam or induction welded systems. The benefits of induction-welded systems include fewer seams and, thus, reduced potential for leaks.
If managers want a thermoset – EPDM – white or black membrane system, they require cleaners, primers, tapes, peel and stick flashings and adhesives that can have odors. There are systems that offer low levels of volatile organic compounds (VOC), which can add to the overall cost of the project.
Another option is a multi-layer built-up or modified bitumen asphalt system. These systems can have 25 years of long-term performance, even in extreme climates and applications. They are manufactured with highly reflective materials that can contribute to energy savings.
Managers can consider a composite, high-density coverboard if the roof will have to withstand a high level of foot traffic. The industry has incorporated a minimum of a ¼-inch coverboard for mechanically attached or induction-welded roofing. Managers need to pay attention to the manufacturer's requirements for areas with the potential for moderate to severe hail because thicker coverboards might be needed. A prime coverboard will be required if the roof system is adhered.
Building codes have increased the R-value requirements for insulation within roofing systems. Depending on the jurisdiction, a new roof system might need 5 inches or more of insulation, which can be difficult to achieve with perimeter edge heights, penthouse door clearances and other existing conditions. If these conditions limit insulation thickness, the local jurisdiction might require a waiver request before construction.
One of the major components of any roof system is the edge securement, particularly architectural metals and wood nailers. Contractors typically fabricate sheet-metal components in the field, but if there are high-wind requirements, manufactured metals might be required. Managers should clarify the requirements with the project designer and roof manufacturer. If wood nailers are used, they need to be pressured-treated wood that are fastened per the relevant SMACNA requirements.
Most manufacturers require a fastener pull test under ANSI/SPRI FX-1 Withdrawal Resistance Test for metal deck decks. The ANSI/SPRI IA-1 Uplift Resistance test for adhered insulations is required for various substrates. The manufacturer can schedule these tests with the appropriate vendor.
Continue Reading:

Roofing

Roof Replacement Strategies and Tactics

Roof Replacements: Understanding System Options

Warranty and Installation Issues for Roof Replacements

Assessment Lays Groundwork for Successful Roof Replacement
---
---
---
Related Topics: