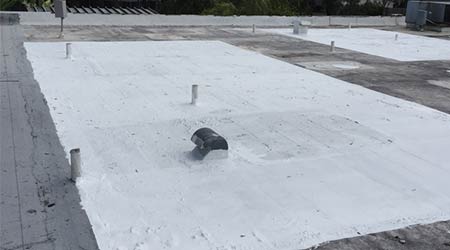 Roof Recovering can Save Maintenance Managers Time, Money
Part three of a four-part article on roof assessments
With certain roof types, managers might have the option of recovering the existing roof membrane, rather than performing a complete removal and replacement. When appropriate, recovering can save time, money and disruption. The process also offers managers the chance to improve the energy efficiency of a roof if the recovery project includes an additional layer of insulation.

Not all roofs are candidates for recovery. If the existing roof has multiple leaks and widespread defects, moisture might have penetrated a significant portion of the insulation. Trapping moisture within the roofing materials by installing a new membrane over it will allow the deterioration to continue.

To prevent such problems, managers should schedule a moisture survey of the roof and have workers repair all damaged areas. As the area of moisture damage increases, the cost advantage of recovering decreases. As a rule of thumb, if more than 25 percent of a roof's insulation is wet, it is better to replace than to recover. If damage to the roof extends to the deck or if it has resulted in the delamination to roofing materials, workers will have to make repairs before recovery.

Finally, building code and insurance requirements might not allow recovery. The building already might have more than one roof in place, and due to weight limitations, most building codes limit construction to two, non-ballasted roofs. Additional roof membranes also might create issues with fire resistance and wind uplift and, as a result, issues with insurance carriers.

Managers also must consider several detail issues before committing to recovery. For example, access-door thresholds might be too low to allow installation of an additional membrane, and vertical flashing on roof penetrations and along the perimeter might be too short and would require replacement, increasing the project's cost.


Continue Reading:

Roof Assessments: The Repair, Recover and Replace Dilemma

Roof Inspection, Moisture Survey Vital to Repair-or-Replace Decision

Roof Recovering can Save Maintenance Managers Time, Money

Replacing Roof with Same Option not Always an Effective Strategy

PRODUCTS: Roofing
---
---
---
Related Topics: