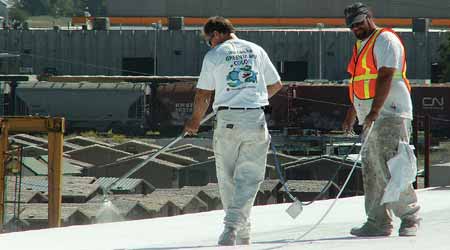 Roof Coatings: Spotlight on The RCMA
Learn more about the Roof Coatings Manufacturers Association (RCMA).
The Roof Coatings Manufacturers Association (RCMA) is the national trade association representing the manufacturers of asphaltic and solar reflective roof coatings and the suppliers of materials, equipment, and services to the industry. RCMA has more than 70 members across the United States, Mexico, and Canada and is headquartered in Washington, D.C.
Established in 1982, RCMA is a leading industry voice, promoting the benefits of roof coatings and providing its membership with up-to-date information on building codes and standards, technical developments, and other industry topics of interest. RCMA continues to advance, promote and expand the national and international market for roof coatings through education, outreach, technical advancement and advocacy. The high level of participation and dedication from the membership is a testament to RCMA's commitment to representing the industry, and to promoting the wide range of benefits roof coatings offer.
The International Roof Coatings Conference (IRCC) is hosted and produced by the RCMA and will be held July 23-26, 2018, at the Fairmont Chicago Millennium Park in Chicago. The biennial IRCC is the premiere roof coatings industry event, offering education on the latest economic trends, emerging technologies, and research developments for industry professionals involved in roofing, coatings, and building sciences.
The 2018 IRCC Advisory Board is accepting abstracts for original research, innovative technology, exploration of professional concepts, or instructive issues of importance to the roof coatings industry. The deadline to submit is Oct. 31, 2017.
For more information on RCMA, please visit our website at www.roofcoatings.org or contact Ally Peck at apeck@roofcoatings.org.
Continue Reading:

Roofing

Roof Coatings: Best practices for Protection and Performance

Roof Coatings: Spotlight on The RCMA
---
---
---
Related Topics: