Roof Coatings Come of Age
Roof coating technology has improved dramatically, and roof coatings can now add years of service life to the roof, as well as help save energy.
OTHER PARTS OF THIS ARTICLE
Pt. 1: This Page
Pt. 2:
4 Types of Roof Coatings: How to Pick the Best for Your Facility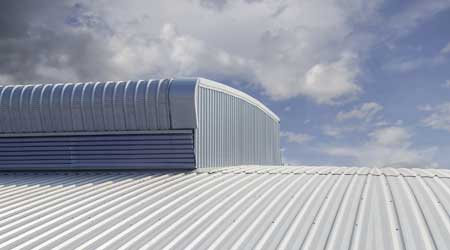 Facility managers should be aware that there have been significant changes in the uses of roof coatings on commercial roof applications over the years. These changes in the material formulations and uses of roof coatings, which began in the mid-1990s and continue today, can be linked to environmental concerns and technical advances.
The Energy Star Program, developed in the mid-1990s, required all low-slope roof systems to have a reflectivity rate of .65 to .70 after three years of application. The only way for most membranes to achieve this rating was with the application of a top coating. Coating colors were primarily white or tan, as studies had indicated that lighter colors provided better reflectivity than darker colors. The coatings were applied at a minimal rate to provide a film surface to act as a barrier against the sun's ultraviolet rays.
Recent advances in coating material technology have increased the uses for roof coatings in the commercial market, and coatings are no longer solely viewed as reflective surfacing. Today, coatings are manufactured as monolithic, fully adhered, elastomeric materials. Coatings are now used to restore existing roof systems by acting as a surfacing that shields the membrane from erosion caused by rain, snow, sleet, and hail. When properly applied, coatings can provide significant advantages to a roof system. Coatings have been documented to extend the service life of existing roofs, improve a building's energy efficiency, resist degradation from chemical attack and ultraviolet radiation, and eliminate the formation of small cracks associated with these degenerative conditions.
Coatings also remain important and effective in protecting roof systems from the sun. Coatings, particularly those with reflective and emissive materials, can reduce roof surface temperature by as much as 30 percent and can extend the service life of some membrane systems by reducing expansion and contraction. These cooler roof surfaces lower a building's interior temperature. This decreases the need for and associated costs of air conditioning and results in less intensive HVAC maintenance over the life of the equipment.
Lasting life
The life of the coating is based on several factors. One is the existing roof condition. Effective coatings work best when applied over properly repaired materials — the coating is only as good as the surface it is applied on. The old analogy of applying paint over an automobile with a bad engine and expecting it to function better is similar to applying coating to a deteriorated roof system. Improper preparation or repairs of existing roof systems and wet (or saturated) insulation will decrease the coating's performance capacity. For instance, if improperly repaired blisters split, the coating will also be impacted.
Life span is also determined by the type of coating, thickness, and quality of application. Most manufacturers provide coating warranties that range from five to 20 years. Consult the manufacturer to determine the best coating for each specific roof area.
It is important to point out that although coatings can extend the service life of the roof system and provide repairs to specific conditions, most coatings do not provide long-term, stand-alone waterproofing protection. Proper roof system (i.e., membrane, insulation, flashings) repairs are required prior to the application of the coating, as the waterproofing is still primarily completed by the existing membrane.
In the past, roof coating applications were typically completed with aluminum coatings. The primary purpose of these coatings was to prevent oxidation and ultraviolet degradation in smooth-surfaced built-up roofs and modified bitumen membranes.
Today, coatings can be applied over all types of low-slope commercial roof membranes and metal. The best surfaces are smooth-surfaced membranes. While application of coatings over aggregate-surfaced membranes is possible, it typically requires removal of all loose aggregate, which poses challenges.
Continue Reading:

Roof Coatings

Roof Coatings Come of Age

4 Types of Roof Coatings: How to Pick the Best for Your Facility
---
---
---
Related Topics:
Comments