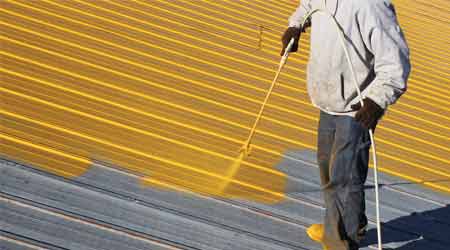 Roof Assessment can Help Determine if Coatings can Deliver Results
Part 3 of a four-part article on roof coatings
Before planning a roof coating application, managers can determine whether a coating is the most effective approach by scheduling an assessment, which can uncover leaks and drainage problems. During the assessment, the inspector should pay close attention to such roof components as penetrations, flashings and curbs.
"Leaks are more likely to happen at seams and penetrations, so extra care should be taken in this area," says Martucci with GAF. "Make sure all the penetrations and seams are properly sealed using good roofing practices. Then before coating, it is recommended to treat all seams and penetrations with a butter grade flashing, and in some situations butter grade flashing and fabric.
"It's best to check manufacturer specifications which may vary based on the type of roof. Once dry, the entire roof is ready to be coated."
Addressing a leak typically involves more than applying a roof coating.
"It's very important to get rid of any wet insulation," Martucci says. "You may think you can just put a coating over the top and problem solved, but if you trap that water, you can have additional problems such as blistering and delamination."
While some coatings can work effectively despite the presence of ponding water, the best practice still remains to remove the water whenever possible.
"You want to make sure your drains are cleared so water is draining properly and not ponding on top of the coating," Martucci says. "You want to keep it clean, too. When a roof gets dirty, it loses reflectivity and therefore some of the energy saving benefits of a reflective coating. Cleaning the roof once or twice a year will keep your roof looking good and help save energy costs."
Once a manager decides the roof is in sound condition, the next phase involves taking steps to avoid adhesion failure when applying the coating.
"Having a successful coating application with the proper adhesion is critical, and the first step is properly cleaning the surface," says Kate Baumann with Mule-Hide Products Co. "A very critical thing that a good coatings contractor will do is an adhesion test. There are guidelines for adhesion tests by various manufacturers, and you certainly want to follow that.
"(One test example is) applying a coating in an area of 2 (inches) by 5 inches and placing a 1-inch to 6-inch piece of cloth or fabric into the coating that you put down and let 2 inches protrude out of one end. Put the second coat over the top, leaving that coating to cure for 72 hours, then pull on the loose end to pull the fabric straight up. If the coating comes off the roof with little effort, then it's doubtful the coating will adhere. If it's hard to pull up, that's a good sign."
Managers also must consider weather conditions when scheduling applications of roof coatings and plan when it is most appropriate to apply in order to achieve the best performance.
"Different coating choices vary over ones you should pick based on what you're applying it over," Baumann says. "But climate considerations and different humidity factors and weather temperature factors during application and just after for performance are things you have to consider during a coating job."
Continue Reading:

Roofing

Roof Coatings: Planning Projects that Perform

Roof Coatings Provide Cost-Effective Option to Complete Re-Roof Job

Roof Assessment can Help Determine if Coatings can Deliver Results

In-House or Outsourcing Roof Coatings Projects Among Managers' Decisions
---
---
---
Related Topics: