Repairing or Replacing Metal Roof and Wall Systems
First of a 3-part article on diagnosing problems and selecting and installing metal for roofing or walls
OTHER PARTS OF THIS ARTICLE
Pt. 1: This Page
Pt. 2:
Weather Protection a Basic in Metal Roofing Repair or Replacement
Pt. 3:
Proper Design of Joints and Other Sheet Metal Panel Challenges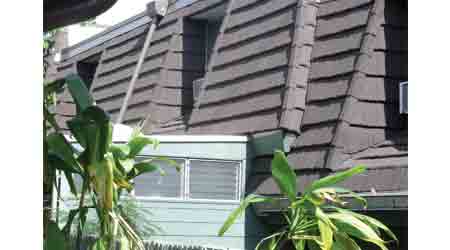 It is common knowledge that sheet metal panel goods are long-lasting and durable products for covering roofs and walls on buildings. However, what if the panels on a building are defective or installed incorrectly? These systems are often challenging to repair because metal panels are generally installed consecutively, overlapping and interlocking with each other. Replacing a panel in the middle of an array is difficult. Facility managers should be familiar with issues they may encounter with metal panel systems as well as potential solutions. It's also important to understand the challenges associated with repair or replacement of metal roof and wall systems and ways to avoid problems with metal roof or cladding materials for new buildings.
Sheet metal coverings have been installed on roofs for centuries. Available products and systems have improved greatly over the past 100 years to include colorful and durable factory finishes. Longer panels are possible, and it's possible to make them on site with portable roll forming machines. Better floating clip systems for roofs accommodate thermal expansion of metals and a better selection of underlayment materials protects roof assemblies. There are decorative metal roof tiles that last a long time and can simulate the appearance of asphalt shingles or clay tiles. There also is a huge selection of metal wall cladding panels to choose from, many of which use rain-screen technologies that have secondary waterproofing behind the panels.
Still, even with all these great advancements, it's critical to ensure that the products selected are appropriate for the building. With all the current ASTM standards and requirements for metal panel products, it is now less likely that product defects will continue to be an issue.
The best advice is to make sure the product is appropriate for the roof. A low slope roof is defined as having a slope of less than 3:12. Some metal roofing systems are specifically designed for use on low slope roofs; others are not. Sometimes the roof design is over-complicated with dormers, valleys, or internal built-in gutters.
Design and installation can also be an issue at penetrations and roof curbs. A metal roofing system has little hope of success without durable flashing systems that have appropriate slopes, laps, and seals. The best design minimizes the use of sealants, as sheet metal products will typically surpass the service life of most sealants. Any roofing system that depends on sealants is unlikely to provide an extended service life without regular maintenance and sealant replacement. When sealants are used inside the laps of existing metal panels, it is difficult, if not impossible, to reinstall sealant within the lap. It is important to get it right the first time.
Continue Reading:

Roofing and Walls

Repairing or Replacing Metal Roof and Wall Systems

Weather Protection a Basic in Metal Roofing Repair or Replacement

Proper Design of Joints and Other Sheet Metal Panel Challenges
---
---
---
Related Topics:
Comments