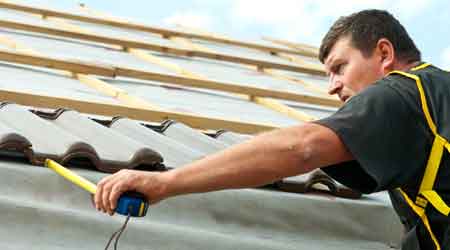 Maintenance Personnel, Trees, Snow Loads Can Hurt Roof
Last of a 2-part article on 10 steps you can take to prevent roof failure during the cold winter months
Among the other advance precautions that can help head off roof problems caused by winter weather, pay attention to potential issues created by maintenance personnel, overhanging trees, and excessive snow loads. Here are six more steps to take:
5. Maintenance personnel often leave mechanical equipment covers unattached or fail to replace all the screws after working on a unit. Tighten all equipment covers on rooftop equipment and replace missing screws. The high winds that often accompany winter storms can dislodge equipment covers and blow them across the roof, causing extensive damage from the sharp edges. It's a good idea to have crossover steps at long runs of duct on the roof so that maintenance and inspection personnel can traverse the roof without having to climb over obstructions, which can cause slip-and-fall accidents. Installing permanent ladders to provide access to all roof levels is important anytime but especially in the winter. Trying to set up a portable extension ladder on an icy roof is just asking for trouble.
6. Trees overhanging roofs can be a major source of damage in the winter. Branches hang lower due to the weight of ice and snow and can even break under the weight. Trim trees overhanging roofs on single- and two-story buildings. Even when snow and ice are not present, the constant rubbing of tree branches on roofs can cause extensive damage and increase the buildup of vegetation that obstructs proper drainage.
7. Often in the zeal to provide attractive holiday lighting and decorations, roof waterproofing components such as gutters and metal parapet wall copings are penetrated with screws. Another frequent occurrence is installation of various holiday-theme displays on or attached to roofs. Any decorative element that penetrates the roof, impedes drainage, or increases snow buildup should be avoided.
8. Safety is also a paramount concern on low-slope roofs. Access to roofs should always be limited to those who have a need to be on the roof, particularly in the winter. Many roof hatch openings are near roof edges where proper barricades like guardrails are absent. Icy roofs constitute a much greater slip-and-fall hazard than dry roofs on sunny days. Roof access hatches and doors should be kept locked, and persons should only be admitted to the roof by an authorized owner representative.
9. Snow loads vary greatly by geography, and most buildings in the northern United States and Canadian climates are designed for snow loads per code. However, buildings collapse every winter due to excessive snow buildup. Snow can drift up against walls, creating unusual weight conditions. When owners or occupants suspect a heavy snow-load condition, a roofing contractor should be employed to remove enough snow to reduce the risk of exceeding the roof's design capacity. Removing snow also helps reduce damage from freeze-thaw cycles.
10. On steep roofs, depending on the geographical area, snow guards should also be inspected for proper securement. Snow guards are devices used to retain snow and ice and prevent buildups from falling like an avalanche from one surface to a lower one. Another problem with steep roofs in cold weather is the phenomenon of ice damming, which occurs when shelves of ice build up on the edges of roofs during freeze-thaw cycles following snowstorms. These shelves of ice can build up several feet back up onto the roof and create leaks and damage to tiles or shingles. Ice dams should be removed by a professional.
While these steps are important in preparing the roof for winter and maintaining it throughout the season, they really should be part of an overall year-round roof management program. Each season creates different considerations in planning and caring for the roof to maximize its performance and longevity. Sound preparation for cold-weather roof performance starts with the building design and ensuring that it is properly insulated, as well as ensuring that mechanical equipment is properly mounted and installed, and that the roof is designed and installed with proper slope and drainage.
No matter what the season, however, maintenance and repair records should be kept, roof warranty claims filed, and warranties enforced. It is quite common for owners to pay for repairs that are covered under warranties simply because they cannot locate the roof warranties or new personnel are unfamiliar with the building history. Always keep roof warranties filed in a safe, accessible place. Warranties generally provide coverage for 20 years.
Remember that it is much easier and safer to perform the winter preparation functions on a dry, sunny day in the fall than trouble-shooting and repairing leaks in January amid freezing weather and a 30 mph wind.
Edis T. Oliver, P.E., is a principal with Wiss, Janney, Elstner Associates, and has 35 years of experience in the roofing industry. He is past president of the Roofing Contractors Association of Texas and the Central Texas Chapter of the Associated Builders and Contractors.
Continue Reading:

Roofing

Protecting Your Roof against Damaging Winter Weather

Maintenance Personnel, Trees, Snow Loads Can Hurt Roof
---
---
---
Related Topics: