In-House or Outsourcing Roof Coatings Projects Among Managers' Decisions
Part 4 of a four-part article on roof coatings
OTHER PARTS OF THIS ARTICLE
Pt. 1:
Roof Coatings: Planning Projects that Perform
Pt. 2:
Roof Coatings Provide Cost-Effective Option to Complete Re-Roof Job
Pt. 3:
Roof Assessment can Help Determine if Coatings can Deliver Results
Pt. 4: This Page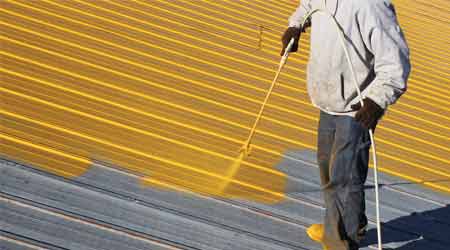 Roof coating projects require important decisions from managers for budget reasons. Among the more critical decisions for managers is determining whether the project is best suited to in-house staff or a contractor.
"A key point when talking to contractors is to understand that contractor's experience with coatings," Baumann says. "For instance, ask how many years have they been involved with coatings and if they offer different coatings. How many experiences do they have? Are they warranty eligible by the manufacturer of the systems?
"Another important question is, 'Do they sub out the work?' If they land the job, do they sub it out to the lowest bidder? That is a major issue in the industry. Whoever they are subbing it out to, ask how many years of experience they have. And are they warranty eligible by the manufacturer?"
If a manager decides to keep a roof coating project in-house, an important issue is deciding on an application method. Depending on the roof's size, managers can save significant money by using in-house workers to apply the coatings with rollers. Using spray equipment to apply the coating means more equipment to rent or buy, and it often requires hiring a contractor.
"From a maintenance perspective, rolling the product on is often more convenient," Martucci says. "If you're looking to coat the entire roof or many roofs, spraying the roof is often the better way to go. Spraying makes it easier to apply the proper amount of coating and in less coats than using a roller.
"If you have one office building, you may not want to buy or even rent a sprayer. You're probably going to roll it on. Either way is effective. You just have to be sure you're applying the proper amount."
When budgeting for a coatings application, it is important for managers to calculate the square footage of the roof as closely as possible.
"You need to calculate extra coating for all the penetrations and curbs," Martucci says. "Also, smoother substrates require less coating, while mineral-surfaced substrates and metal profile roofs require more coating. A mineral surfaced or metal profile roof could use up to 50 percent more material to get proper coverage."
"A lot of it is experience, but manufacturers will tell you that for every 100 square feet, a typical minimum amount of material is 2-3 gallons in two coats, and they go up from there based on what kind of warranties you are looking for."
Continue Reading:

Roofing

Roof Coatings: Planning Projects that Perform

Roof Coatings Provide Cost-Effective Option to Complete Re-Roof Job

Roof Assessment can Help Determine if Coatings can Deliver Results

In-House or Outsourcing Roof Coatings Projects Among Managers' Decisions
---
---
---
Related Topics:
Comments