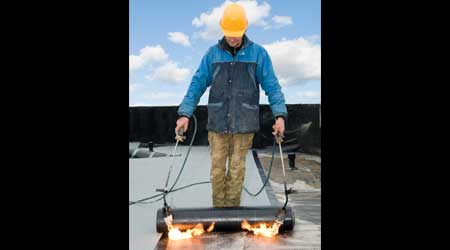 How to Prevent Roofing Problems
All roofing systems have pros and cons. But when used in an installation that matches the needs of facility, all can be installed for long, leak-free lives.
Facility managers know the importance of having a roof that performs, but some may assume that there is really not much to know about the roof. It's only a roof, right? But just as medicine and technology have advanced over the years, so have roofs. The industry has come a long way from clay, wood, and slate and now relies on highly engineered systems designed for specific structures and environments.
There are more than 300 roof system types in the commercial building market today, all with their own applications and benefits. The majority of roof systems fall into one of these common categories: single-ply, built-up, modified bitumen, or metal roof assemblies.
Single-ply membranes are commonly referred to by their chemical acronyms. The most common single-ply membranes are polyvinyl chloride (PVC), thermoplastic polyolefin (TPO), and ethylene propylene diene monomer (EPDM). These systems typically last from eight to 20 years, depending on factors such as membrane sheet thickness and type of attachment. Single-ply systems are further split into two categories – thermoplastic and thermoset materials.
The seams on thermoplastic materials (PVC and TPO) will form a single membrane if they have been properly hot-air welded. Afterwards, the entire membrane will soften slightly during hot weather and harden slightly during cold weather. These roof types are highly reflective of ultraviolet rays if designed in white, have a low incidence of seam failure, and are flexible enough to conform to the various movements of the roof. However, over time, those same UV rays they are designed to reflect will cause the system to become brittle due to plasticizer migration and increase the likelihood of cracking.
Thermoset materials (EPDM) incorporate principal polymers that are chemically cross-linked; once a thermoset polymer is cured, it can only bond to similar materials with the help of adhesives. Thermoset systems are flexible in nature, quickly installed, and have a low initial cost, but they are not as resistant to punctures as other roof systems.
Built-up roofs (BUR) are made up of a surface of coating/aggregate that covers multiple bituminous and felt layers. Asphalt or coal tar pitch typically make up the bituminous layers, while fiberglass, polyester, and organic mats make up the felt layers. The fabrics/felts used are called ply sheets.
Built-up systems are tough; they have a high tolerance to punctures and general abuse, but they can be costly up front, inflexible, and slow to install. However, with proper upkeep, you can expect a BUR system to last 25 to 40 years.
Polymer-modified bitumen (modified bitumen or mod bit) roof membranes are composed of reinforcing fabrics that serve as carriers for the hot polymer-modified bitumen as it is manufactured into a roll material. Like BUR membranes, mod-bit system membranes are composed of multiple layers. Unlike BUR systems, mod-bit are typically installed as a two-ply system with a mod-bit cap sheet on top. In all applications, torch or hot-air welding of all seams is recommended.
Mod-bit roof systems, like BUR systems, can stand up to a high amount of abuse but have higher initial purchase and installation costs as well as a tendency for weaker seams. The lifespan of these roof systems is typically from 20 to 25 years.
Metal roof assembly roofs are structural or architectural and can be made up of a variety of different metals such as aluminum, copper, galvanized steel, stainless steel, zinc, etc. Structural systems are installed directly over purlins and serve as both the roofing panel and structural decking. Architectural panels are installed over a structural roof deck often composed of wood sheathing. Metal roof assembly systems are designed to be hydrokinetic and should incorporate positive drainage to shed water as efficiently as possible.
Metal roof assembly systems have an aesthetic edge compared to other roof systems, since they are part of the overall design of a structure. An aging metal roof can be restored, adding significant life to the roof: The fasteners are redone, the seams are reinforced, and an elastomeric coating is applied. Metal roof assembly systems are pretty low maintenance in comparison to flat roofs. However, fastener systems require regular maintenance to protect the seals where the fasteners penetrate the metal roof panels. And metal roof assembly systems can have water shedding issues. Depending on the system used, a metal roof assembly system should last 25 to 50 years.
Continue Reading:

Roofing

How to Prevent Roofing Problems

Understanding 3 Common Roofing Problems

How to Perform a Roof Condition Index Assessment

8 Tips for Roofing Preventive Maintenance Inspections
---
---
---
Related Topics: