You Might Like
On FacilitiesNet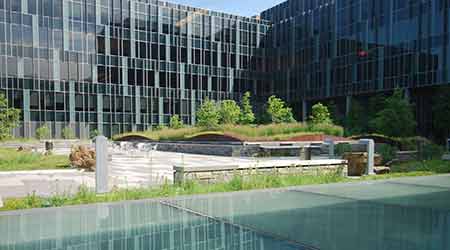 Photo: Bill Willis
Challenges, Benefits Associated With Vegetative Roofs
Part 3 of a four-part article on roofing
Just like managers in other organizations considering green roofs for their facilities, Alonso and Fortinsky knew challenges would arise during installation and maintenance of the vegetative roof on the new U.S Coast Guard headquarters.
"With anything you build, there's always trepidation about leaking and plazas," Fortinsky says. "This building has five different courtyards, so it's not just the roofs that are green. All of the infill and courtyards between them are green. It's all about the details and making sure the right waterproofing and roofing materials are put in."
One challenge during installation involved lifting soil and plant materials to the various roof levels and distributing them once they were up there. Among the materials that required transportation to the roof were 400,000 individual plants, 2 acres of sedum sod, 3 miles of roof paver paths, 18 miles of tubing for a drip-irrigation system, and 10,000 cubic yards of soil in depths of 6-12 inches.
"All of the soil was spread across these roofs using handheld carts," says Alonso, who was on site interacting with the crews every week throughout the installation. "The sheer scale and scope of this project certainly added to the complexity. Bringing up large quantities of plant material and getting them planted in a timely manner, given the temperatures and the conditions. It was a very impressive project to watch."
The structure of the roof also has created issues for the workers maintaining the roof.
"The roofs aren't all accessible by stairs," Fortinsky says. "There are several that are only accessible by hatches, and several that are only accessible through operable windows. That causes some issues with maintenance because workers are carrying debris and other materials up a ship's ladder through a hatch and into the building to then dispose of it."
While the installation presented challenges, the system's post-installation performance has lived up to expectations.
"It has performed well," Fortinsky says. "In the first year, it took some time for it to take hold. But once it did, it flourished. We had to replace some things over the first year. But it performed as well as, if not better than, we had hoped. It's still in great shape, and there is really no area of the roof or the courtyards that aren't flourishing."
Alonso advises managers working with new green roofs to be vigilant from the beginning.
"If there is a certain amount of plant loss within the first two years, it's important to get up there and replant because the roof is only effective if it has healthy plant life," she says.
Fortinsky echoes the importance of early inspection and, if needed, intervention.
"None of it needs mowing, and once it's gotten established, it's much less likely that weeds will infiltrate it," he says. "But you just have to really keep it up in the first two years to make sure it's not invaded by invasive species."
Failing to plan adequately for post-installation maintenance opens the door for developments that can quickly undermine an organization's investment in measures to improve facility sustainability.
"The numbers are there that over the long term, the benefits of a well-maintained roof far outweigh the costs of its maintenance," Alonso says. "There have been too many times where we have come onto a site, and the roof was built out three or four years prior, and there was no maintenance on the roof.
"At that point, it might be overgrown with weeds. There could even be weed trees growing into the roof, and as we know, weed trees can make their way into the membrane and cause structural issues. The maintenance should take place at least three or four times a year, and there should be a knowledgeable manager trained on green roofs at a minimum, just to know what to look for."
---
---
---
Related Topics: