Building Exteriors Products
OTHER PARTS OF THIS ARTICLE
Pt. 1:
Roofs, Walls, Window Technology Contribute To Long-Lasting, Durable, Efficient Facilities
Pt. 2: This Page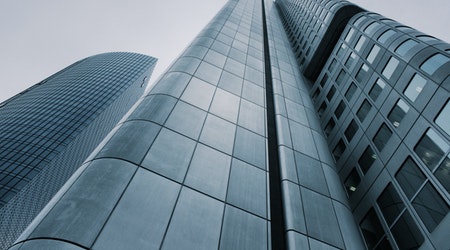 COOL CAP-SHEETS
Mule-Hide: The SA-APP KoolCap and SA-APP KoolCap FR modified-bitumen membranes are durable self-adhering cool roof membranes. They have a Solar Reflectance Index of 90, which exceeds the requirements of the California Title 24 code for energy efficiency. The granular-surfaced cap sheet membranes are made with CURE Technology, a solvent-free thin film technology designed to increase granule retention and improve resistance to stains and discoloration. It uses UV stabilizers for long-term durability. As well, a high-performance polyester reinforced mat gives the membranes high tensile strength and dimensional stability. A touch-up kit is available to treat lap areas and details, and make repairs.

SECURITY WINDOWS
Ross Technology: Aluminum Forced Entry / Ballistic Resistant (FE/BR) Windows are designed to deliver DOS-certified protection against mob-level forced-entry attacks and rifle-level ballistic threats in a complete system designed for energy efficiency and modern architectural appeal. Available in a wide variety of performance ratings for both fixed and teller window applications, they can also be engineered to resist significant blast loads with a "no hazard" rating. The company says its aluminum window designs use high-strength aluminum alloy components for durability and a thermally broken frame with industry leading U-values and condensation resistance.

RIBBON WINDOWS
Tubelite: The 900RW Series ribbon windows, part of the Therml=Block product line, offers single and dual poured-and-debridged thermal options. Designed for strip window applications in low- to mid-rise commercial buildings, the products are designed to save installation time and labor, while meeting model energy codes and contributing to LEED certification. Tested per NFRC 102-14 procedure, the windows achieve a U-Factor of 0.30. They also successfully were tested per AAMA 1503-09 standard, achieving a CRF of 72. The thermal framing is available in depths of 4-1⁄2 or 6 inches. Glass is positioned at the frame's exterior and installed from the interior.

DURABLE THERMOPLASTIC
Garland: The company's KEE-Stone FB 60 fleece-backed thermoplastic membrane is formulated using the highest grade DuPont HP Elvaloy Ketone Ethylene Ester (KEE) to provide superior resistance to UV degradation and heat while retaining low-temperature flexibility. In accelerated weather tests, the product showed no signs of cracking or cratering even at 100 times magnification, which is 10 times more than the ASTM 6745 standard requires. Containing the KEE formulation throughout the entire sheet, the membrane is reinforced with a polymer-coated, high-performance scrim. The design allows the KEE compound above and below the scrim to fuse together, providing exceptional puncture, tear, and tensile strength.

DRAMATIC METAL PANEL
CENTRIA: An addition to the company's Intercept modular metal panel system, Intercept LVLZ is a rainscreen that integrates seamlessly with Intercept Entyre for dramatic plane changes. The product makes façades stand out, creating as much as a 21⁄2-inch difference in panel-to-panel depth, to add a level of relief and contrast to any elevation. Panels are available in depths ranging from 2 to 4 inches and sizes spanning 48-by-120 inches and 30-by-138 inches for both horizontal and vertical orientations. Standard vertical and horizontal panel joint reveals are 3⁄4-inches wide.

SOLAR MOUNTING SYSTEM
Sika Sarnafil: The Sika SolarMount-1 is a lightweight, aerodynamic mounting system for the installation of rigid photovoltaic (PV) panels on low slope Sarna l thermoplastic roofs. The product includes the Sika SolarClick welding flange, which is made of the same formulation as Sarna 1 roofing membranes, and is welded directly to the membrane, ensuring compatibility. Installation does not require any roof penetrations, and ballast is typically not required, making the product suited for lightweight roof structures.

STRONG BONDING ADHESIVE
Carlisle: EPDM x-23 Low-VOC Bonding Adhesive is a contact adhesive that provides a bond between EPDM membranes and a wide variety of substrates. This product is formulated to flash off quickly, which reduces the potential for trapped solvents. In addition, its extended open time allows installers to keep sheets open longer, increasing installation flexibility and permitting more solvents to escape prior to setting the sheets. Resistant to gelling in cold temperatures, the low-VOC product meets the less than 250 gpl VOC content requirements of the OTC Model Rule for Single-Ply Roofing Adhesives.

SPARKLING EIFS
Dryvit: The use of mica chips in the company's TerraNeo aggregate exterior causes light to be reflected, giving a sparkling appearance. TerraNeo finishes are suggested as a finish over EIFS, cement plaster, tilt-up panel, cement board, or precast structures. They also can be used on interior walls. Finishes are available in ten colors.

COOL ROOF KEE
Duro Last: The 50- and 60-mil EV contains ketone ethylene ester (KEE), a high-molecular-weight polymer with elastomeric properties and favorable melting properties for thermoplastic processing. The membrane complies with ASTM D 4434-12. The company says the membrane offers increased flexibility, durability, and resistance to weather, ultraviolet rays, chemicals, and oils.

SELF-ADHERED UNDERLAYMENT
Firestone Building Products: Clad-Gard SA-FR underlayment with CoreGard technology is the only self-adhered, waterproof, UL Class A underlayment available on the market, the company says. By offering the fire protection of UL Class A roofing materials in a single-layer underlayment, the product's technology reduces installation time, labor costs, and the overall number of materials for commercial roofing projects. The product can be left uncovered for up to 120 days. Primer is not required for the underlayment in temperatures that exceed 40 degrees. The product is covered by the Firestone Building Products Red Shield Warranty.

ENERGY EFFICIENT SUPERWALL
Wausau Window and Wall Systems: SuperWall SSG for four-side, silicone-glazed curtain wall and window wall systems is now included in the company's standard SuperWall Series. The product is designed to create dramatic entrances, open atriums, transparent low-rise structures, and sleek, modern facades. To complement energy efficiency goals, the framing can accommodate zero sightline insert vents for natural ventilation, ClearStory exterior sun shades, interior light shelves, and façade-integrated photovoltaic modules. The product is available in four depths — 6-3/4, 7-3/4, 8-3/4 and 10-3/4 inches — and accepts standard, structural silicone, insulating glass units.


WINDOW RETROFIT
Renovate by Berkowitz: A window retrofit technology intended for 30- to 60-year-old commercial buildings, the Renovate system maintains a building's exterior by hermetically sealing a factory-made insulated glass unit (IGU) to the interior surface of the existing window. The system converts existing single-pane windows into energy-efficient triple glazed IGUs. The company says the system offers improved thermal performance, cost and time savings compared to a traditional window replacement, and outside noise reduction and better acoustics. The system has a sound transmission class between 30 and 37.

SHINGLE RECOVER
Tremco: The TremLock T-138 Shingle Recover System is a standing seam metal panel system that installs directly over existing commercial-roof shingle systems without tear sheet or underlayment. The product's shingle recover clip — long enough to sit on two shingles simultaneously, aligning each clip with the plane of the roof — holds the panel 3⁄4 inches above the existing roof. Together with the system's vented eave and ridge components, this creates an air space that allows uninterrupted air flow between the existing shingled and new metal roof — a strategy called above sheeting ventilation (ASV) which reduces heat transfer into a building.

FIRE-RATED WALL SYSTEM
National Gypsum: Intended for radius applications requiring fire-rated assemblies, the Gold Bond BRAND XP Fire-Rated 5/16-inch Radius Wall system is used in double-layered construction. A one-hour UL tested assembly can be achieved with two layers, and a two-hour UL tested assembly can be achieved with four layers. The special PURPLE XP paper protects against mold, mildew, and moisture, and is also abrasion-resistant. The product scores and snaps easily, with no special handling requirements, the company says.

SIMPLE ROOF DRAIN
OMG Roofing Products: The SpeedTite Roof Drain is a drop-in-ready drain that installs in about half the time of other insert drains. No special tools are required; facility staff simply insert the drain stem into the existing drain leader and hand-tighten the mechanical seal to create a symmetrical water-tight seal. The 10-inch long drain stem accommodates most existing conditions. An extra large flange allows positive attachment of roof flashing membrane, and flanges are also available with TPO or PVC coatings for direct hot-air welding.

ROOF WALKWAY COATING
Progressive Materials: The Pro-Grip Walkway System is designed to combat significant roof damage and decreased overall performance from foot traffic, dropped tools, and equipment storage. The product is designed to enhance the abrasion resistance of the roof surface while also providing a non-skid walking surface. The system is made up of two parts, and can be installed in four simple steps. The system includes two parts: a 100 percent silicone coating, and granules — tiny rocks that are given a bright yellow color to match the silicone coating and provide a non-skid surface.

THICKER INSULATION
Huber Engineered Woods: To help light commercial buildings meet prescriptive continuous foam requirements outlined in the 2015 International Energy Conservation Code (IECC), the company has introduced an R-9 insulation thickness in its ZIP System R-sheathing line. The new version of the IECC also includes more stringent air tightness requirements, and the company's sheathing line has an integrated water-resistive barrier that, combined with taped panel seams, offers a streamlined approach to help achieve the reduced air infiltration requirements.

COOL MOD-BIT
Johns Manville: Combining a standard granulated cap sheet with a highly reflective roofing surface, Cool Roof Granulated (CR G) cap sheet is the company's most cost effective cool roof option for modified bitumen. The cap sheets' granules mitigate solar heat to provide interior comfort and mitigate the urban heat island effect. In addition to the membranes, five-gallon containers of the granules are available as well for dressing up bleed-out at seams. The product has UL approvals and is listed with the Cool Roof Rating Council.

REFLECTIVE, COOL COATING
Polyglass: PG 600 non-fibered aluminum roof coating is a reflective coating designed to protect a variety of asphalt-based roofs and most metal roof substrates. When applied to the roof, the aluminum flakes leaf to the surface, forming a reflective, metallic shield over the base material. PG 600 contains a soft-settle formulation for easier mixing and is specifically formulated to be compatible with Polyglass roofing membranes.

WATERPROOFING SOLUTION
GAF: The company's Hydrostop PremiumCoat System is a waterproofing solution for coating, recovering, reroofing, and new applications. It includes Foundation Coat, a water-based acrylic base coat, PremiumCoat Finish Coat, and Hydrostop PremiumCoat Fabric. The system is a fully adhered, adhesively attached, breathable acrylic membrane.

HIGH-GLOSS EXTERIOR COATING
Valspar: Designed for extruded aluminum exterior products, such as storefronts, windows, entrances, handrails, column covers, and panel systems, the Acropon 2605 Extrusion Coating system is a high-gloss product developed with the latest in resin technology, the company says. The product results in finishes that meet or exceed AAMA 2605-13 specifications for 10-year South Florida weathering conditions and resistance to salt spray, chalking, and fading. The system consists of a color coat and a clear coat, and is spray-applied to extruded aluminum. A wide palette is available, including color-intense hues, mica, and metallic. Gloss levels range from 30 to 70 and higher.

BONDING ADHESIVE
GenFlex Roofing Systems: The company's EPDM Solvent-Free Bonding Adhesive offers single-sided, wet lay application with near-zero volatile organic compounds and no odor, the company says. The solvent-free adhesive formulations allows installers to mate the membrane as soon as it's applied — there is no need to wait for flash-off and no mixing is necessary. The product has a coverage rate of 120 to 150 square feet per gallon.

PREMIUM ROOF BOARD
Georgia-Pacific Gypsum: Featuring the mold resistance, fire resistance, strength, and dimensional stability of its DensDeck Roof Boards family, DensDeck Prime Roof Boards provide broader compatibility and greater performance with roofing adhesives, the company says. In adhered, single ply membrane testing, DensDeck Prime demonstrated an average of 24 percent better bond strength than the original product, when using solvent based adhesives (average based on 60 square foot per gallon coverage rates). The company says the product's ½-inch and 5/8-inch widths are the first and only fiberglass mat gypsum roof boards with a 90-day limited warranty for exposure to normal weather conditions when installed vertically on a parapet wall.

ELECTROCHROMIC GLASS
SageGlass: The company's electrochromic glass product tints on demand. The company's nanotechnology incorporates micro-thin layers of coating applied to the glass and is available in a standard insulating glass unit. When activated by a low-voltage electrical current, the coating darkens, absorbing a portion of the sun's heat and light, and enabling the glass to tint on demand. The product is designed to control solar glare, minimize solar heat gain, and enhance the thermal comfort of building occupants.

FLEXIBLE METAL WALL PANEL
MBCI: MasterLine 16 is a metal wall panel with concealed fasteners. Coverage width is 16 inches; can be used in both horizontal and vertical applications, and comes in 24 (standard), 22, 20, and 18 gauges. Has factory-applied mastic in side laps, designed to resist air and water infiltration. Panels may be attached to metal studs, with or without sheathing, as well as to subgirts. Comes in both smooth and embossed finishes and a variety of coatings.
EASIER ENERGY MODELING
Butler Manufacturing: SmartView technology is designed to make energy modeling more feasible by drastically reducing the amount of time and input data required. Based on the energy model, it predicts total cost of ownership (TCO), which equals first cost for the building envelope, plus operating, maintenance, and replacement costs for the facility. TCO also factors in cost of capital, inflation, energy price escalation, and equipment life. Additionally, tax rebate information can be factored in. A SmartView report is available through Butler Builder dealers.
Continue Reading:

Building Exteriors

Roofs, Walls, Window Technology Contribute To Long-Lasting, Durable, Efficient Facilities

Building Exteriors Products
---
---
---
Related Topics:
Comments