Climate Plays Big Role In Selecting The Right Roofing Products
The aspects of the climate that most affect the design of the roof system are amount and type of precipitation, temperature and wind. A building in a dry climate does not need the same type of roof as a building subjected to daily rains. Places that have high fees for wastewater removal may want to consider a vegetated roof to absorb stormwater. However, rain isn't the only consideration. Snow can drift and collect in corners, topping flashings and leaking in. Hail can puncture roof systems and requires a roof that can withstand abuse.
Additionally, if there is a large temperature spread between summer and winter, a roof system that will expand and contract with thermal movement is a good choice. Climate will affect the amount of insulation needed in the roof. Predominantly hot areas should consider a reflective roof system to save on cooling bills. In predominantly cold climates, whether savings are possible or not depends on a number of factors, including cost of heating energy compared with cooling, slope of roof, insulation, and building dimensions. One resource for facility managers to determine whether a roof will have energy benefits is the Department of Energy's Roof Savings Calculator.
Heat sinks may also be considered for hot climates to lessen the amount of thermal shock that can occur when a roof is suddenly cooled during a rainstorm.
Identifying the wind uplift requirements is especially important in areas prone to hurricanes or other high wind events. Anywhere the wind gusts more than gale force should take wind into consideration. Even a 40-mile-per-hour wind can cause a poorly attached roof to peel like a banana.
Owner Considerations
The owner's intentions for the building are among the prime consideration in roof selection. If the owner intends to flip the building as soon as possible, first cost becomes the primary driver. However, long-term holders and owner-occupied buildings are best served with a roof designed with long-term use in mind.
Insurance is another item that affects the roof choice. If the building is insured by a Factory Mutual (FM) company, the FM design and installation requirements must be followed to the letter. Other insurers may have their own standards to follow, so the prudent course is to check with the insurance company during the design phase to be sure.
Finally, there is the budget. Long before the roof is to be installed, you should have a roof inspection performed by a competent roof consulting architect or engineer who will give you an unbiased opinion of when the roof will need to be replaced and the probable construction costs for the replacement. A consultant can tell you whether you can re-cover or if a tear-off is needed. She or he can also prepare construction documents that anticipate all of these considerations prior to bidding the work. Having an adequate budget for the roof can do much to assure that the building needs are met.
And of course, all if this if for naught if there are no contractors available who know how to properly install the desired roof. When selecting a roof, you should identify contractors available to install it. Using local roofers is a good idea as they can respond more quickly to problems than if they are located far from the job site.
Knowing what you need before you go out to bid and being sure you communicate these needs to the contractor, can help you receive a roof that will perform well and have a nice, long life.
Karen Warseck, AIA, is president of Building Diagnostics Associates, a Hollywood, Fla., architecture firm. She is a contributing editor for Building Operating Management.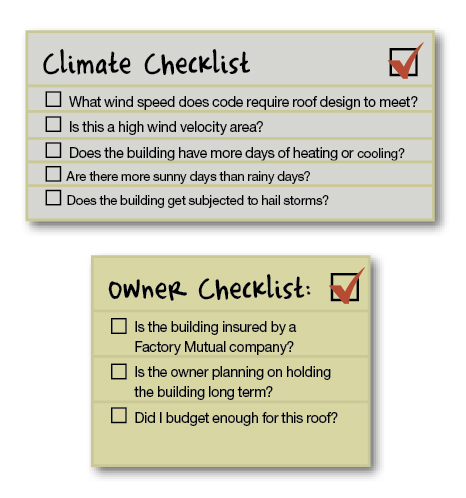 Continue Reading:

Picking The Right Roofing Product Has Several Considerations

Climate Plays Big Role In Selecting The Right Roofing Products
---
---
---
Related Topics:
Comments