Understanding UPS: Generators, Load Tests, Commissioning, Circuit Breakers
Part 3 of a 4-part article describing UPS technology and configuration trends that FMs should consider before selecting a system
OTHER PARTS OF THIS ARTICLE
Pt. 1:
Understanding UPS Offline Design Trend, Redundancy Options
Pt. 2:
New UPS Options with Compact Designs, Batteries, Cooling Requirements
Pt. 3: This Page
Pt. 4:
5 Criteria to Guide Purchase of UPS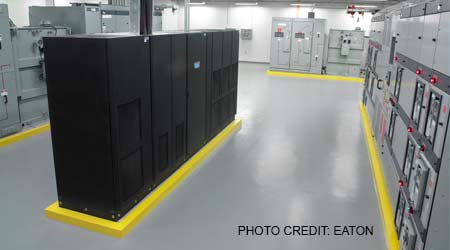 A summary of 10 key UPS trends continues here with a look at generators, load testing, commissioning, and circuit breakers.
UPS AND GENERATOR ARE IN HARMONY.
Generators no longer need to be oversized for UPS input harmonics. Old generators that are supporting old UPS equipment may still be a challenge. Old mechanical (speed control) governors sometimes fight with SCR (silicone-controlled rectifiers) or diode-bridge rectifiers in old UPS equipment. But renewing either the generator or UPS will often resolve the problem. An old generator with a mechanical governor will often smoothly support a new UPS system with a transistorized rectifier. Likewise, a new generator with a solid-state governor will often smoothly support an old UPS with an SCR or diode-bridge rectifier.
GOOD DESIGN MAKES FOR EASY LOAD TESTING.
In the design phase, it is a good idea to make provisions for an easy load bank connection point. Some UPS systems include varying degrees of internal load test capability without the requirement for external load banks. This is good for ongoing preventive maintenance but will not allow for proper loading of the UPS input power source (all the way upstream to the utility/generator/automatic transfer switch feed) through input and bypass breakers or through output switchboards and power distribution. Load is required for effective thermal scanning, and using live load to test UPS systems is almost never recommended.
DON'T LET CIRCUIT BREAKERS BREAK YOUR HEART.
Keep in mind that circuit breakers are designed to trip when things might not be right. And they do a good job of tripping and shutting down equipment, sometimes for no apparent reason, ruining your whole day, even when everything else is right.
The first line of defense against breaker nuisance is to make sure breakers are sized correctly. This can be particularly challenging for UPS rectifier/charger breakers. Understand that unlike bypass and output breakers, UPS normal input breakers need to be sized to carry full load plus UPS efficiency losses plus battery recharge current. Any time you see a UPS normal input breaker sized the same as the bypass or output breaker, a red flag should be raised.
The next critical detail is breaker adjustments (large breaker trip set points are often field-adjustable). An over-current protective device coordination study should be performed and maintained, which will include specific breaker adjustment detail. Here's where you get into trouble: Adjustable circuit breakers are almost always shipped from the factory with all adjustments at minimum (the most sensitive and trip-happy) set points. Someone in the field (usually an electrician) needs to adjust each breaker. Someone else (owner, commissioning contractor, etc.) should check that trip adjustments were properly made. Even if all this is done correctly, months or years later, when a breaker is tested or replaced, it also needs to be adjusted correctly. Testing breakers often involves turning down adjustments. After testing, proper adjustments need to be restored. Many unplanned data center shutdowns have directly resulted from adjustable breakers that were never turned out from their minimum setting.
DON'T ALLOW STARTUP TO BE CONFUSED WITH COMMISSIONING.
Once new UPS and battery equipment is installed, equipment larger than plug-in units almost always includes vendor startup. Startup is not commissioning; startup includes very little in the way of performance testing. A separate commissioning effort is strongly recommended, which will require additional budget and schedule time. Commissioning needs to be planned and budgeted well in advance; there is never any budget or extra time for commissioning when it is an after-thought, when the UPS system is required to begin supporting live load. Test performance in all normal, bypass, and backup modes at full nameplate load and additionally at full design load for redundant configurations. Batteries should be fully discharged at rated load. Infrared thermal scanning should be performed. Proper UPS commissioning almost always requires the application of an external load bank.
WHAT TO DO WHEN THE END IS NEAR.
Small plug-in UPS systems are often replaced when their batteries reach end-of-life in as few as three years. Larger UPS systems can be made to reliably last as long as 15 years or more. Batteries may be changed out three or four times and capacitors may be changed out twice during the UPS life. Once a UPS system is no longer in production, or the manufacturer is no longer in business, parts are no longer available from stock, and especially when service providers no longer embrace old equipment, then it is time to replace the UPS system in its entirety. It's a good idea to plan and budget for large UPS end-of-life replacement years in advance. You don't want to run to failure.
Michael Fluegeman is principal and manager of data center support systems for PlanNet, an independent professional services firm that provides advisory, design, project management, and construction services supporting critical IT infrastructure. He can be reached at mfluegeman@plannet.com.
Continue Reading:

Uninterruptible Power Supply

Understanding UPS Offline Design Trend, Redundancy Options

New UPS Options with Compact Designs, Batteries, Cooling Requirements

Understanding UPS: Generators, Load Tests, Commissioning, Circuit Breakers

5 Criteria to Guide Purchase of UPS
---
---
---
Related Topics:
Comments