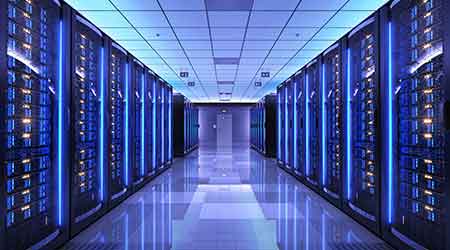 UPS Energy Storage Option 1: Lead-Acid Batteries
The tried-and-true UPS battery storage system, lead-acid batteries are the most common.
Lead-acid batteries have been used for decades in UPS applications, and are known as the tried-and-true UPS battery system. Valve regulated lead acid (VRLA) batteries are the most common type of all batteries used in today's mission-critical environments.
"In North America, we have a very strong lead-acid industry, with a number of quality manufacturers," explains Frank A. Fleming, senior technical advisor for Northstar Batteries LLC. "The key to a reliable lead-acid battery system is to choose batteries that are designed properly and built for high performance."
• Cycle Life and Lifespan: Lead-acid batteries typically have a cycle life of between 300 and 600 discharges, depending on the depth of discharge. Many 12-volt "monoblock" lead-acid batteries are warrantied for 3 to 5 years, and many building owners will replace lead-acid batteries several times over the 10-year lifespan of their UPS. But new technology developments have allowed some manufacturers to increase the life of their batteries beyond 5 years.
"We've been able to extend the useful life of our batteries with recent advancements," explains Bruce Cole, senior vice president of industrial sales for East Penn Manufacturing. "We've optimized the positive grid alloy to reduce corrosion, developed a catalyst that minimizes gassing and prevents water loss inside the battery, and used enhanced plastic casing materials. Our 12-volt battery systems have been proven to work reliably for 6 to 8 years, if the data center provides proper scheduled maintenance."
• Discharge Rate and Recharge Time: Lead-acid batteries are capable of high power discharges, and are very good in high-current applications. Advanced batteries used in UPS applications have average 7.5 (8C) to 10 minute (6C) discharge rate. (C-Rating is a standard battery term. It is a measurement of the battery's discharge rate.) The recharge time varies between 2.5 and 24 hours, depending on the battery.
"Northstar's batteries use a round, prismatic cell with a thin, pure lead plate electrode," says Fleming. "The plates have a high surface area, and are packed very tightly together, which gives you the ability for very high-powered discharge and rapid recharge."
• Size and Weight: Lead is a dense metal, so lead-acid batteries are heavier than other batteries. They are also generally larger than other chemistry batteries, and often take up more floor space. However, some manufacturers are producing modular VRLA battery package designs that minimize the space needed.
• Cooling Requirements: Lead-acid batteries are temperature-sensitive and require cooling in data center environments. Many VRLA batteries experience life degradation above 76 F (25 C), and higher temperatures shorten the battery's useful life. But some manufacturers have made improvements that allow data centers to operate lead-acid batteries at higher temperatures, or to prolong battery life at room temperatures with reduced power consumption (lower battery charge currents).
• Maintenance: Lead acid batteries require a higher degree of ongoing maintenance compared to other advanced batteries. Lead-acid battery systems must be inspected once every 3 to 6 months to ensure that the batteries will work properly when the UPS needs them.
"Although they are optional with-lead acid batteries, it is good practice for facilities owners to use a battery management system to monitor health and status," says Cole. "When you use a [battery management system], maintenance becomes more of a visual inspection to check for visual product integrity, loose connections, and corrosion."
Fleming adds, "At Northstar, we've added a Bluetooth chip to each monoblock [grouping] of battery cells within our batteries. The Bluetooth chip monitors the voltage and internal temperature of the battery, and communicates this information to a gateway. This allows us to monitor battery performance, identify issues, and use predictive analysis to determine if a battery needs to be replaced. It's the lead acid equivalent of a Battery Management System that you find in lithium batteries."
• Initial Cost vs. Total Cost of Ownership: Lead acid batteries have the lowest initial cost of the various types of UPS batteries, and so require the lowest up-front capital investment. But a total cost of ownership analysis should also factor in cooling requirements, ongoing maintenance, and the cost of replacing batteries 1 to 3 times over the lifetime of the UPS.
• Safety Issues: Manufacturers say that lead-acid batteries have an established safety record through years of proven use. But like all batteries, lead acid batteries generate heat during charging. If the heat is not dissipated from the battery, they can be susceptible to thermal runaway, if not correctly managed by facility engineers.
"As a general rule, if a battery's temperature exceeds 18 F above the ambient room temperature, it's recommended that you take action (lower voltage, disconnect, etc.) to prevent a thermal event," says Cole.
Continue Reading:

Energy Storage

Comparing Uninterruptible Power Supply (UPS) Energy Storage Options

UPS Energy Storage Option 1: Lead-Acid Batteries

UPS Energy Storage Option 2: Lithium-Ion Batteries

UPS Energy Storage Option 3: Nickel-Zinc Batteries

UPS Energy Storage Option 4: Flywheels

Which UPS Energy Storage System Should FMs Use?
---
---
---
Related Topics: