Rebates and Beyond: An Array of Utility Programs Can Help FMs Save Money
First part of a two-part article about working with utilities on energy efficiency savings.
OTHER PARTS OF THIS ARTICLE
Pt. 1: This Page
Pt. 2:
Demand Response, Commisssioning, and Training: Utility Partnerships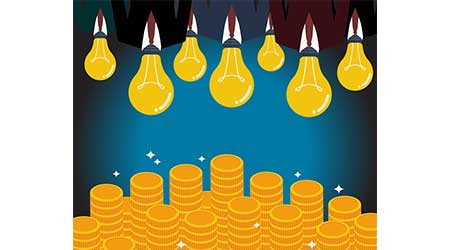 Utility spending on energy efficiency programs is booming. Annual spending on utility-sector electric and natural gas energy efficiency hit $7.7 billion in 2013, according to a 2015 ACEEE study, Policies Matter: Creating a Foundation for an Energy-Efficient Utility of the Future. By contrast, in 2003, the investment in electricity programs was $1.4 billion. (Natural gas numbers were not available for the earlier time period, according to the report.)

"There's been tremendous growth in energy efficiency programs by utilities and related organizations," says Dan York, utilities, state, and local policy fellow with the American Council for an Energy Efficient Economy (ACEEE). "Customers in most states served by investor-run utilities or municipal ones have access to these programs."

Rebates often are top of mind when facility managers think of working with their utilities to cut energy use and costs. That's understandable, as they remain an important tool in many utilities' efforts to help their customers reduce energy consumption. At the same time, a range of other energy- and money-saving options are available.

"The programs vary from state to state, but most offer some incentive programs to cut costs and greenhouse gas emissions," says Carolyn Sarno-Goldwaithe, senior program manager for high-performance buildings with the Northeast Energy Efficiency Partnership, or NEEP.

The growth in these programs is driven largely by state policies, York says. In Minnesota, for instance, utilities are expected to save 1.5 percent of their annual sales volume each year. "It sounds small, but over ten years, it's 15 percent," he adds.

While regulators might have acted as the catalysts for many of the programs, utilities also are discovering they're valuable customer service tools. The programs allow utilities to interact with customers as more than names on their bills, and to address customers' concerns about their use and cost of energy. "The rise of customer efficiency programs helps utilities have a friendly face," York says.

Multiple choices for rebates
Rebates continue to account for a large share of the programs, due largely to their popularity among facility managers, York says. Rebates fall into several groups. Under a prescriptive rebate program, the utility identifies products that qualify for rebates because they've been shown to be energy efficient. Facility managers can purchase and install one of the products on the list to qualify for a rebate.

Generally, the equipment must have demonstrated, consistent, well-researched energy savings, says Corey Corbett, a lead energy management engineer with Puget Sound Energy (PSE). An example would be LED lights as replacements for T8 tubes.

In a variation of this, PSE offers point-of-sale rebates. An example is its lighting-to-go program. When a facility manager purchases equipment from an approved provider of energy efficient lighting, it receives an instant discount. The benefit? "It streamlines the paperwork," Corbett says.
In contrast, custom rebates tend to be more comprehensive. "Rather than just buy a more efficient fan motor, the utility will work with the customer to develop efficiencies across the system," York says. For instance, a facility manager could invest in a more energy efficient HVAC fan motor, and improve other system components, such as ductwork. In return, the utility may pay the facility a certain rate for each kilowatt hour the building saves. These programs tend to come into play in facilities with more complex energy systems.

PSE's custom rebate program recognizes that different buildings require different equipment and operate differently, Corbett says. Often, PSE assigns an engineer or energy professional to the facility. This individual may identify energy-saving opportunities, and then work with the facility manager to develop a custom incentive based on, for instance, the energy efficiency to be derived from an investment in upgraded lighting controls systems.

After the upgrade is complete, the engineer confirms that the equipment is working as planned and the savings can be quantified before authorizing the rebate. "We need to make sure the technology upgrade is cost-effective," Corbett says. In most cases, the upgrade has to pay for itself through the energy savings that accumulate over the equipment's useful life, which typically ranges from 10 to 15 years.

A variation of the rebate is "on-bill financing," says Sarno-Goldwaithe. Under a traditional rebate program, the facility covers the initial investment needed to acquire the energy efficient equipment, and then receives the rebate once it's installed.

With on-bill financing, the facility pays for the equipment over time, through a charge added to its monthly utility bills. This way, it doesn't have to dip into its capital budget to finance the purchase. "With on-bill financing, the cost stays in the operating budget," Sarno-Goldwaithe notes. Moreover, the net impact to the facility's bottom line often is moderated by the fact that the facility isn't paying for the equipment until it sees the savings generated by it. On-bill financing often is used with lighting and
HVAC upgrades, she adds.
Continue Reading:

Utility Programs

Rebates and Beyond: An Array of Utility Programs Can Help FMs Save Money

Demand Response, Commisssioning, and Training: Utility Partnerships
---
---
---
Related Topics:
Comments