Facility Managers Say Companies Are Taking Action to Increase Data Center Efficiency
It's called a "death spiral" — a self-reinforcing and ultimately destructive cycle of factors that drive costs ever higher. The term comes from the health insurance industry. As premium and out-of-pocket costs rise for a health insurance plan, the healthiest individuals leave. Costs climb, more members leave ... the spiral continues until the plan becomes unaffordable.
Something comparable to a death spiral has been driving up energy costs in data centers over the past decade. Increasingly powerful servers and other IT equipment have opened the door to more sophisticated software. Each generation of software offers companies a competitive advantage, making it more critical to have the newest upgrade, plus the latest and greatest hardware to support it. That hardware, meanwhile, has been getting both smaller and hotter. As a result, data centers have had to contend with more servers in the same amount of space, each server demanding more cooling than the unit it replaced. The result is an upward spiral of energy costs, which has risen to the point that top management in a growing number of organizations has taken note.
In a survey of Building Operating Management readers about measures to control energy use in data centers, the results suggest that there has been a jump in the willingness of organizations to invest in data center energy efficiency.
What's more, our survey indicates the extent to which energy efficiency practices are being adopted, offering benchmarks that facility managers can use when planning to build new data centers or renovate existing ones.
Investing in Efficiency
Facility managers can talk all they want about the rising cost of energy consumed in data centers, but until top management starts paying attention there's little chance that a company is going to invest in efficiency. Our survey makes it clear that much of top management is focusing on energy use in data centers. Nearly half of respondents — 47 percent — described top management as very concerned about energy efficiency in data centers, while most of the other respondents — 42 percent — said top management was somewhat concerned.
It's worth noting that energy costs are only part of the picture. "It's also that people want to be perceived to be green," says R. Stephen Spinazzola, vice president, RTKL Associates. Companies are measuring their carbon footprints and finding out just how big an impact the data center has. "They have to do something in the data center if they want to be perceived as a good corporate citizen."
New Outlook on Payback
That environmental impact, combined with skyrocketing energy costs, has changed the way that many companies think about data center energy use. Spinazzola says that about half of his clients are now willing to look at longer payback periods than in the past. "We're looking at paybacks now in the five to seven year timeframe, instead of the traditional one to two," he says.
Our survey bears out the idea that companies are willing to make a bigger upfront investment to obtain better energy efficiency. For data centers now in design or under construction or renovation, energy savings were much more likely to justify paying a first-cost efficiency premium than was the case with data centers constructed or renovated in the past three years.
Thirty five percent of respondents said that energy savings justified spending more on efficiency for data centers completed in the last three years. By contrast, that number jumped to 60 percent for projects currently underway.
What's more, the number remained high — 58 percent — when facility managers looked ahead to data center construction or renovation projects anticipated for the next three years.
Our survey also shows that a variety of energy efficiency practices are becoming more widely adopted:
Control temperature on supply air rather than return air
Hot aisle/cold aisle
VFDs and controls to enable part-load operation of the HVAC system
Economizer cycle
New ASHRAE temperature guidelines for data centers
In each case, respondents said, these measures will be used more widely in data centers now in design or construction than they were in data center projects completed in the past three years. And the same trend holds when those recently completed data centers are compared to existing data centers: Energy efficiency measures are more common in newer data centers than in the universe of existing data centers.
"The data center is evolving tremendously," says Mark Evanko, principal, Bruns-Pak. One reason is that the adoption of one energy efficiency measure can lead to the use of others. Current ASHRAE data center guidelines have raised the rack inlet temperature to 80 F. That opens the door to the use of air-side economizers. In one data center that Evanko is working on, the use of air-side economizers with a heat recovery wheel is projected to reduce not only energy costs, but also capital expenses, compared to the use of water-cooled chillers with water-side economizers. Capital costs fall because the higher mechanical equipment cost for the chiller option is offset by lower installation expenses and a smaller building footprint than with the other system.
It's worth noting that new design strategies have to be carefully thought through. The old ASHRAE guidelines called for lower rack inlet temperatures. If cooling was lost, the temperature would start climbing from 72 degrees, providing more time to get the HVAC system up and running before temperatures hit a level that would threaten the operation of IT equipment. "If you're starting at 80 (degrees), you get into the danger zone of overheating sooner," Evanko says. "You really have to understand your mechanical plant better, and you better be confident in it."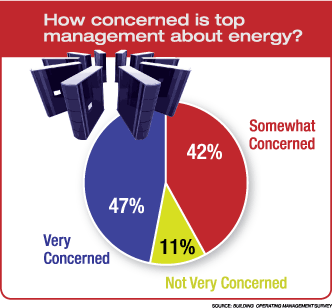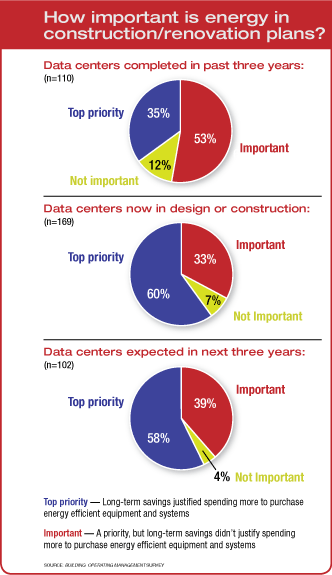 Continue Reading:

Critical Facilities Survey: Energy Efficiency is More Than Just Talk

Facility Managers Say Companies Are Taking Action to Increase Data Center Efficiency

IT Departments Getting More Involved in Efficiency
---
---
---
Related Topics: