You Might Like
On FacilitiesNet
Emergency Communication Codes and Standards: What's The Difference?
Take a walk through the most pertinent codes and standards that cover mass notification and emergency communications.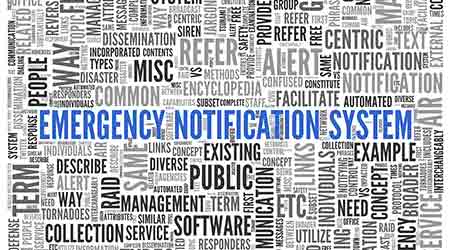 In the design of an integrated emergency communications system, it's important to understand the differences between codes and standards. A code imposes legal requirements; a standard is not required, but is followed voluntarily to comply with industry installation, application, and operational guidelines. The code governs design and installation of an emergency communications system when used or required. The standard that should be applied will be determined by how the system is integrated into the building.
Code-required emergency communications can mandate more than one-way fire alarm or mass notification system. Many jurisdictions and states require two-way radio communications enhancement systems to be installed in new and existing buildings when regional radio dispatch signals fall below minimum signal strengths required by codes (National Fire Protection Association (NFPA) 1221, NFPA 72, and International Fire Code). Enhancement within a building requires a properly designed radio frequency distribution system incorporating a distributed antenna system to wirelessly distribute the required signal level throughout the protected premises. Area-of-refuge two-way communications or elevator lobby two-way communications are two additional two-way emergency communications systems often required by ADA, other accessibility codes and laws, and building codes. In this case, communication is between the remote location and the building's fire command post; an integrated system is able to dial out to a 24-hour monitored location or station.
Even though standards are not legally mandated, it's important that emergency communications systems comply with standards. Standards-compliant emergency communication system designs help establish foundational infrastructure and systems installation. On this foundation, a facility will be able to facilitate and support advances, developments, and upgrades to technologies throughout the life of the building. Standards developed by organizations such as the National Electrical Contractors Association, the Telecommunications Industry Association, and Building Industry Consulting Service International govern the direction and focus of technology developments by the industry. By complying with the standards, facility managers align themselves to support technology growth and development
Numerous laws, ordinances, and international and national building codes and standards help determine which types of systems are required, how they are required to be installed, and the level(s) of integration required. Which will apply to a specific facility is dependent upon location. The following codes may be applicable and local authorities may amend these as they are adopted, along with some ICT industry standards:
• International Building Code (IBC).
• Building codes adopted by the local or state authority.
• NFPA 72 (National Fire Alarm Code): governing code to determine how the system is to be installed.
• TIA Wiring Standards, 2018 Edition.
• BICSI Telecommunications Distribution Methods Manual (TDMM), 13th Edition
• ASIS Protection Of Assets, design and applications manuals.
• Avixa (InfoComm): various audio-visual systems standards.
---
---
---
Related Topics:
Comments