Arc Flash Analysis: Three Key Steps for Building Owners
Best practices include proper updates, good documentation, and effective communication.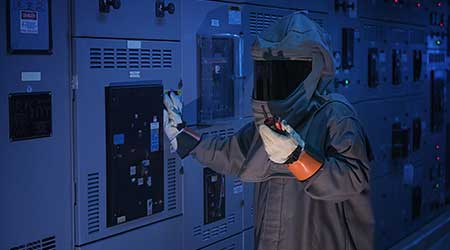 For commercial and institutional building owners, safety must be a top priority. To protect maintenance workers and others who may come into contact with a building's electrical equipment, regular analysis of this equipment is essential. Running an arc flash, or equipment failure, analysis is a preventive step building owners can take to evaluate their facilities' electrical system. Prepared by a professional electrical engineer, the arc flash assessment is building-specific, allowing building owners to understand how much energy will be released during an incident, the degree to which it could injure those who may be working on the machinery, and the required level of personal protective equipment (PPE) and other precautions required to safely work on energized equipment.
To maximize effectiveness, these studies must be done properly and in compliance with standards established by the National Fire Protection Association (NFPA) and Institute of Electrical and Electronics Engineers. There are arc flash study best practices that building owners should be aware of to make analyzing their electrical system safe and efficient.
Regular Analysis
Arc flash analysis must be done consistently and should be updated whenever changes are made in the electrical distribution or, per NFPA 70E, at a minimum evaluated every five years. Whether due to maintenance, one's utility upgrades, or an upgrade to a building's electrical service/distribution, the state of a building's electrical system can change rather quickly. It is important for building owners to make sure they are reviewing or updating the arc flash analysis at least every five years, if not sooner, to maintain awareness of the hazards associated with this equipment. If building owners are aware that their equipment has changed, or if they've initiated energy projects affecting the electrical systems, studies should be run immediately, and arc flash labels updated.
When third-party energy services engineers are hired to upgrade systems, oftentimes these experts will initiate an arc flash analysis to determine proper, safe, and reliable equipment for the facility. Arc flash studies ensure building systems are operating safely and maximizing the use of their electrical equipment.
Good Documentation
One of the most common problems individuals encounter when working on existing electrical equipment is poor record keeping. Basic equipment information, including equipment ratings, cable sizes and lengths, and load sizes, needs to be well documented. This way, when maintenance workers, utility workers, or third-party engineers engage with the equipment, they know exactly what they are dealing with. To ensure equipment operations are as safe as possible, as well as to protect anyone who encounters the equipment, building owners should maintain up-to-date records that clearly point to the last time an arc flash analysis was run. Every time a study is conducted, a PDF and electronic working file of the study should be cataloged, and labels printed out and placed visibly on each piece of equipment. This way, when a subsequent study is run, whoever is running the study is not starting from scratch.
Coordination with the Utility Company
One of the best actions building owners can take to maximize the efficacy of an arc flash analysis is to be in regular communication with their utility companies. Utilities are constantly doing work on their systems which, in turn, may alter the incident energy at the customer's equipment. For those working on building systems, especially third-party engineers, getting access to this data remains a challenge. Many utilities have account executives to help major customers interface with the utility engineering and operations functions and they may be helpful in getting to the needed information.
Building owners can ensure maintenance workers and third-party professionals are up-to-date by sustaining a steady communication loop between themselves and their utilities. If any party participating in the arc flash study is inadequately informed, the analysis may be invalid. Consistently exchanging information with electric utilities, and asking them for their data upfront, is the most effective way to ensure everyone can thoroughly analyze the equipment.
To better ensure the efficacy of this communication process, it is paramount for building owners to hire only well-trained professional engineers, who can comprehend these exchanges and the data on hand, to work on their systems.
While conducting an arc flash analysis constructively takes diligence, coordination, and time, failing to run these studies puts buildings at risk for power outages, a multitude of safety issues, and ineffective equipment. Additionally, if electrical systems are not regularly and effectively maintained, building owners cannot take full advantage of upgrades to their system, including upgrades to mechanical and electrical systems, building renovations, and similar projects.
Most important, the hazards of dealing with a building's electrical equipment, if the steps outlined above have not been followed, can lead to injuries or even fatalities. It's possible for building owners to protect those who encounter their electrical equipment. Following best practices for arc flash analysis should be part of a comprehensive electrical safety program.
Anoj James, P.E., is a senior electrical engineer at Con Edison Solutions.
---
---
---
Related Topics:
Comments