You Might Like
On FacilitiesNet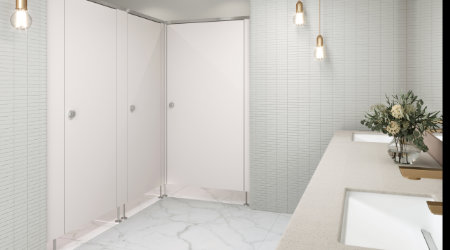 Office Workers Still Taking Coronavirus Precautions
Workers continue their return to the office, but coronavirus remains top of mind for many of them.
Bradley Corp. released the results of its Healthy Handwashing Survey, which revealed that office workers are taking many preventive steps to avoid getting sick from COVID-19.
The survey, conducted Aug. 3-10, revealed that 86 percent of office workers are bringing masks to the office, and 73 percent of them have been fully vaccinated. Office workers are also utilizing other personal protective items to combat COVID, as 66% carry their own hand sanitizer, 39% bring cleaning wipes to work, and 29% make sure to have disinfectant spray on hand.
Office workers show more concern over coming into contact with germs and contracting COVID than the general public, 73% to 67%. The survey shows that office workers also are more conscious about regular handwashing, as 70% of office workers more rigorously wash their hands compared to 59% of the general public.
Other highlights from the survey include:
73% of office workers are concerned about contracting COVID
70% have increased their handwashing due to new coronavirus strains, such as the Delta variant
51% avoid shaking hands
42% sit further away in meetings
36% use video conferencing instead of meeting in person.
Bradley interviewed 1,035 American adults on their handwashing habits, concerns about coronavirus and their return to the office. From that number 513 people were identified as office workers and asked another series of questions that were more office-related.
Dave Lubach is the Managing Editor, facility market.
---