Facility Manager Cost Saving/Best Practice Quick Reads RSS Feed
Celebrating 100 Years of Handwashing
February 26, 2021 - Contact FacilitiesNet Editorial Staff »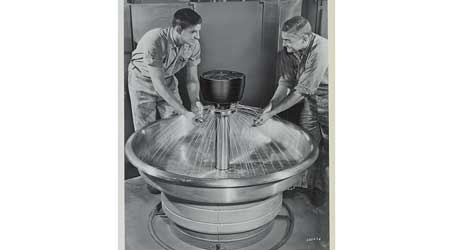 This year marks the 100th anniversary of Bradley Corp. The Wisconsin-based company got its start with the first multi-user handwashing fixture – the Washfountain – invented to increase worker productivity.
Bradley was founded in 1921 by Howard A. Mullett after he and several partners bought the rights to the Washfountain from inventor Harry Bradley of the Allen-Bradley Corp. Bradley came up with the idea for the Washfountain after realizing the amount of time workers had to wait in line to wash their hands. He created the group handwashing concept to save time and keep workers on the shop floor.
Today, headed by Chairman/CEO Bryan Mullett, the fifth Mullett generation to lead the company, Bradley has continued to innovate.
"From day one, Bradley has been driven by generations of talented people, innovative designs and a clear vision for the future," said Mullett. "I am beyond proud of our employees and their accomplishments. Together, we've built a true family bond that grows stronger every year."
Even at its founding, Bradley was focused on removing touchpoints from the handwashing process, beginning with the Washfountain, which was activated by a foot pedal.
"Bradley has always strived to make handwashing and drying easier – and more hygienic," Mullett said. "Touchless handwashing has been relevant for a century but never more important than it is today as the world overcomes the Covid-19 pandemic."
Bradley remains committed to American manufacturing in Wisconsin, Mullett says. After establishing its manufacturing roots in Milwaukee, Bradley moved its headquarters to Menomonee Falls, Wisconsin, in 1964, where it still is today. The company established its second Wisconsin-based plant in Germantown in 2010. Another milestone took place in 1942 when Elizabeth Wetherell took the helm at Bradley, making her the first female president of a Wisconsin company.
"Our company will celebrate all year long with several new innovative products launching soon," Mullett says. "Whether washing hands, washing in the shower or cleaning up after an emergency, Bradley will lead the market with the most advanced washing technology available."
---
Comments