You Might Like
On FacilitiesNet
« Back to Facilities Management Plumbing & Restrooms Category Home
High-Capacity Dispensers Help Boost Healthcare Facilities' Image and Performance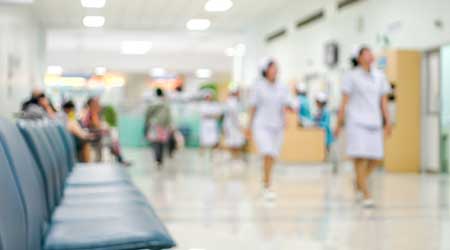 April 27, 2018 - Plumbing & Restrooms
By Tom Bergin
Hospitals use state-of-the-art technology to treat patients, so why would healthcare providers settle for anything less to maintain health and wellbeing at the most basic level: handwashing?
In today's competitive marketplace, healthcare organizations are constantly seeking ways to improve the performance and ranking of their facilities, as well as the associated operations costs. In addition to improving patient care delivery methods, adhering to a myriad of regulatory requirements, and implementing cost reductions, the effectiveness of an organization's facility management program plays a crucial role in providing superior, cost-effective patient care. However, the latter is often overlooked in a key area within hospitals.
Restrooms are used by almost every person visiting a healthcare facility and most Americans say a messy restroom signifies poor management, showing a lack of care about appearances and visitors, according to the 2016 Healthy Hand Washing Survey. Subconsciously, many view the restroom as a microcosm of an entire healthcare facility. If the restroom is poorly-stocked, dirty and messy, then people will assume the rest of the facility is too. As a result, a healthcare facility's reputation can come under risk if it does not maintain and elevate the overall look and cleanliness of its restrooms.
In addition to ensuring a pleasant visitor experience, cleanliness and hygiene are crucial in healthcare facilities to help avoid cross contamination. To prevent the spread of germs, medical staff should feel confident that handwashing stations throughout a facility are adequately stocked with hand towels so they can practice proper hand hygiene.
How can healthcare organizations deal with the challenges of ensuring dispensers are always stocked while controlling costs? By utilizing the highest-capacity, most-effective dispensing solutions available on the market today. By installing high-capacity dispensers, facility managers can ease the pressure on maintenance teams who must service large wards, ensuring stock is refilled.
Utilizing the highest capacity hand towel dispensers on the market can have the following benefits for healthcare facilities both from a visitor and maintenance perspective:
• High-capacity dispensing: The highest capacity dispenser on the market can hold much more product than standard towel systems, serving up to 600 more users between refills without fear of product runout.
• Improves visitor and guest experience: Fully-stocked, high-capacity dispensers ensure users can dry hands fast without being held up in the restroom.
• Easy, flexible refilling: Dispensers that offer refill flexibility allow cleaners to tackle the task when it suits them, and save time by not having to check refill levels frequently.
• Focuses cleaning staff on pressing needs: Because high-capacity dispensers can hold more towels than standard systems, maintenance staff can focus on other business-critical tasks without needing to frequently stop and refill product.
• Increased efficiency: The highest capacity dispenser on the market also features compressed hand towels, ensuring cleaning staff can carry double the load and reducing time spent traveling back and forth to stock restrooms.
• Touch free advantage: High-capacity dispensers help protect towels and offer individual dispensing to reduce cross contamination and the spread of germs.
Tom Bergin is marketing director, healthcare/industrial, Essity Professional Hygiene.
posted on 4/27/2018