Plumbing Upgrade Slows the Flow of Water — and Dollars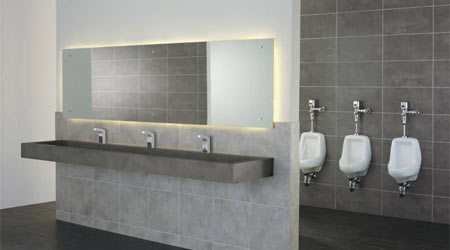 Plumbing fixtures might not be the first thing on school districts' minds when it comes to providing a world-class education, but they are a critical element for keeping schools running smoothly.
August 2, 2016 - Plumbing & Restrooms
Plumbing fixtures might not be the first thing on school districts' minds when it comes to providing a world-class education, but they are a critical element for keeping schools running smoothly. Just ask Craig Phillips, who oversees the operation and care of facilities at the Community Consolidated School District (CCSD) 15, the third largest pre-K-8 school district in Illinois. The district encompasses 21 buildings with 1.7 million square feet.
As manager of environmental services for CCSD 15, Phillips needs to ensure he is working with the right partners when making decisions that affect the district. Among Phillips' responsibilities are purchasing products for and overseeing the maintenance of the district's plumbing systems.
Though it's a large task, he does it all while keeping students' needs and efficient use of taxpayer and community funds top of mind. So when the time came to replace aging fixtures and equipment, he knew he needed to select plumbing products that would be durable, reliable and hold up for years to come.
A registered architect with his own practice since 1987, Phillips investigated several brands and developed a rigorous set of standards to compare products.
"The reality is, we need responsible, practical, economical choices that make sense for the long term," Phillips says. "If we're investing in new equipment, we need to know it has a long life cycle, with minimal maintenance requirements."
After extensive research and an insightful meeting with a Moen Commercial representative, the school district decided to begin replacing its existing faucet and flush valve fixtures with M•Power sensor-operated flush valves and faucets in four buildings.
"I was familiar with Moen from residential projects I had completed at my own firm, so I knew that the brand's products are of the highest quality," Phillips says. "Once I learned about the value of Moen Commercial's offerings, including their lower lifetime cost, I knew they were the right choice."
The first installation took place in 2012, and, to date, there are about 480 Moen Commercial products throughout four buildings, with additional installations planned for the remaining buildings throughout the next two years.
Phillips chose Moen Commercial for the quality and durability of the flush valves, and its self-cleaning piston technology.
"Unlike other products in the market, M•Power doesn't have a rubber diaphragm or other components that will wear out and need to be replaced, which can save the district money over the life of the flush valve," Phillips says.
Phillips' choice to install Moen Commercial was further confirmed after attending a seminar for northern Illinois school districts, where he was able to discuss the performance of piston valves versus diaphragm models with other professionals.
"Since the M•Power flush valves function at a variety of water pressures, I never have to worry about costly sewer backup problems," he says. "Because the flush valves can accommodate such variances, we know we'll be able to push everything out of the system and keep our lines clear."
The sanitary protection and environmental benefits of M•Power were a deciding factor for CCSD 15, as well. Since the flush valves and faucets utilize advanced sensor technology, that means students don't have to touch the fixtures to activate them, helping to keep restrooms cleaner. According to Phillips, with more laws requiring water conservation, facilities are placing greater emphasis on installing water-efficient products.
Since the first installation, Phillips and the district have been pleased with the performance of Moen Commercial's products, especially the financial benefits. M•Power has provided significant savings on the district's sewer and water bills -- reducing their monthly costs by nearly 50 percent, compared to the previous fixtures. Moen Commercial's direct sales force is also able to provide service and attention, answering questions and resolving any issues that arise.
Phillips said he now can rest easy knowing he is acting in the best interest of the district's students and taxpayers.
"I haven't had any problems or complaints," he says. "Moen gets my vote every time. It's highly superb, compared to other products in the marketplace."
---
Comments