You Might Like
On FacilitiesNet
High-Privacy Restroom Partitions Facilitate All‑Gender Restroom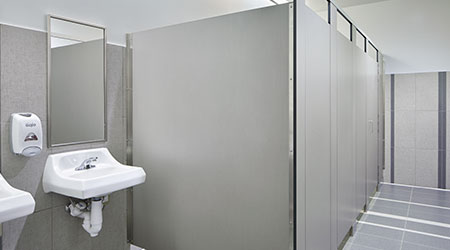 November 1, 2018 - Plumbing & Restrooms
In Washington State, Title IX protections, including protection against discrimination on the basis of gender identity and transgender status, became unequivocal law within Washington public schools by 2009. When the Queer Spectrum Alliance (QSA) at Vashon Island High School, just outside of Seattle, began campaigning for all-gender facilities to support the school's LGBTQ population, these antidiscrimination laws helped them make a compelling argument to Seattle Public Schools representatives.
To achieve this objective, privacy was non-negotiable. While some commercial facilities might consider single-user restrooms to maximize privacy for their patrons, this is rarely a practical option for public schools due to budgetary and time limitations. However, the design-build team knew that a high level of privacy could be achieved through toilet partitions, without the need for new wall construction, new ductwork, fire sprinklers, or electrical. Meanwhile, as is the case with any school's toilet partition system, durability was also a key requirement.
Bobrick DuraLineSeries compact laminate maximum privacy, gap-free partitions were selected as a means to maximize privacy and promote peace of mind for all students using the new all-gender restrooms. Continuous hardware between the panels and stiles eliminates sightlines and 72-inch-tall doors further help reinforce privacy. The Compact Laminate material is also difficult to scratch.
The new restrooms opened in January 2018. Each all-gender restroom features a shared hand-washing area, an ADA-compliant accessible toilet compartment, as well as Bobrick B-3706C semi-recessed napkin/tampon vendors with free dispensing, ensuring that students always have unrestricted access to feminine hygiene amenities. In recent years, several states have passed laws requiring some public facilities to stock a portion of the restrooms with such amenities at no charge.
---
Comments