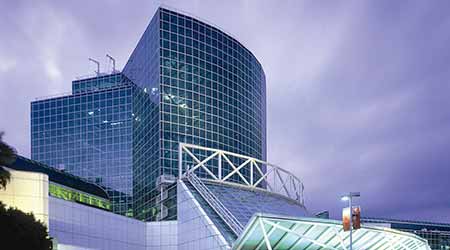 Los Angeles Convention Center
Waterless Urinals Among Convention Center Plumbing Upgrades
Part three of a four-part article on Los Angeles Convention Center restroom upgrades
After considering a number of plumbing product manufacturers, convention center officials chose Sloan Valve Co. to provide products for the upgrade projects.
"We were looking to see where we could find some immediate results, and with some of the water-conservation methods out there, one of them was retrofitting all of our water closets," Rosicky says, referring to changing out more than 700 toilet flush valves with a flow rate of 3.5 gpf and installing lower-flow models with dual-flush capability.
"We selected a dual flushometer because I'd seen it at the Portland Convention Center and thought it was pretty nifty because it has two volumes of water — one for liquids and one for solids."
The convention center tried different strategies during plumbing upgrades. Two restrooms built 45 years ago featured urinal troughs and sensors that activated the flow of water as soon as a user opened the door. The system wasted countless gallons of water over the years, so the project included replacing them with 18 hybrid urinals that use only 1 gallon of water per week for clearing waste and cleaning.
"The troughs would accommodate several thousand people during some of our larger breakouts in meeting rooms," Rosicky says. "They're huge water guzzlers. The incentive was for us to get some remarkable water-conservation numbers there, as well."
The convention center also experimented with waterless urinals, installing 15 of the units as part of the larger urinal-replacement project. The maintenance staff continues to gauge the benefits of installing more waterless urinals in the future, but Rosicky also is encouraged by the way that the hybrid urinals have performed for the center.
"We didn't have any waterless urinals previously, and I was never a big fan of them," Rosicky says. "I always thought that technology had not been perfected, and colleagues tell me they had problems with them. Some say it's just maintenance and poor oversight with regards to changing out the cartridges, and others said the technology hasn't been perfected."
One overlooked but important aspect of the upgrades was the benefits that the convention center received from the updated look of the newly installed products — an important consideration given the high-profile and public nature of the center's operations.
"If you are a patron of a large facility, and regardless of which one it is and how well they maintain their restrooms, it is indicative of how they maintain their building overall," Rosicky says. "If you go to a restaurant and don't see the restroom in pristine condition, you have doubts about what it looks like in the kitchen.
"The (updated look) was definitely a nice benefit. The flushometers look great, the toilet seats look great, (and) the bowls weren't chipped. All of it looked great, and with the faucets and urinals, it just gives us a favorable impression to our guests."
Continue Reading:

Plumbing & Restrooms

Los Angeles Convention Center Restroom Upgrades Score Big

Convention Center Thinks 'Outside the Box' for Plumbing Upgrades

Waterless Urinals Among Convention Center Plumbing Upgrades

Making Plumbing Upgrades Work
---
---
---
Related Topics: