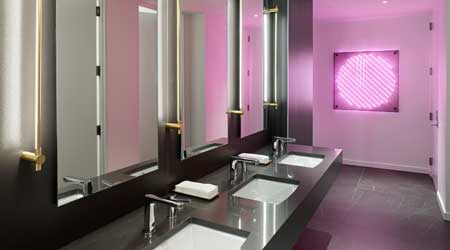 Sustainability, Sanitation, ADA: Critical Considerations for Restroom Design
From how the public accesses a restroom to a public restroom's fit within a building's larger design, here are some considerations for now and future restroom design.
When it comes to sustainability, commercial restrooms have been somewhat ahead of the curve, largely driven by tighter local and federal codes but also as a cost-savings method for operators and developers. Eco-friendly designs can also pay larger dividends because they respond to today's consumers who are environmentally focused and respond positively to efforts that are equally socially responsible. Fixtures that push beyond the federal water use standards, including high-efficiency toilets and urinals and faucets with multi-spray laminar aerators, show a commitment to doing more than just minimum requirements. In addition, new technologies embedded in fixtures create connected restrooms that communicate in real time with facility management to further improve on sustainability, as well as reduce costs, by managing and documenting use.
Moving beyond the given expectations of sanitation and sustainability, the larger opportunity for the development of commercial restroom design lies in the issues that focus on the human experience, which starts with accessibility. With the passage of ADA, accessibility became priority. However the tendency today is to focus only on customers in wheelchairs. Recently, a larger conversation has developed around universal design and focuses on a range of people, including customers with different types of mobility equipment, temporary health problems, reduced strength and flexibility, or visual impairments. The conversation has also grown to take into consideration gender-inclusive, single-user and multi-user restrooms. Providing gender-inclusive restrooms recognizes that a growing percentage of the population does not feel comfortable choosing either a men's or women's restroom and allows for an equally accessible option. And if that means more restrooms in general, that is an added benefit, especially for women who all too often have to wait in long lines to use public restrooms
Convenience, unfortunately, is typically lacking in current public restroom designs, but the situation also creates an opportunity to make a big impression in small ways. Customers using public restrooms often need a place for coats, shopping bags, purses and suitcases. Eliminating doors in favor of S-shaped entrances, not skimping on stall size and providing strategically placed hooks and shelves in the stall and at the sink area and larger bag cubbies under sinks, would go a long way. In addition, providing thoughtful amenities like water bottle refill stations and digitally embedded weather and news feeds in mirrors provides a level of unexpected convenience. For families, public lounge areas outside restrooms, family rooms that can accommodate strollers, and private rooms for nursing are important considerations in providing a higher level of convenience.
Equally important to all of these considerations, and often the one thing that is most overlooked, is design. More often than not, public restrooms are looked at as isolated spaces with little or no relation to the larger context of the project in which they are located. Instead, they should be an extension of the design concepts of their surrounding context. Designers should be bolder and use unique and contrasting finishes, materials, and creative forms and layouts. Instead of creating a simple, sterile space, designs should provide a sense of warmth, hospitality or whimsy. The Instagrammable restroom has given rise to expressive designs and unique features, including futuristic forms, dramatic lighting, bold colors and graphics and deconstructed layouts. With new technologies and continued advancements in materials, these ideas can comfortably coexist with the more practical requirements of health and sanitation, allowing designs to be hygienic and fun, all while delivering a memorable customer experience and making the restroom the most unexpected and interesting room in the building.
Kevin Horn, LEED GA, vice president at CallisonRTKL, leads the retail interiors sector of the Los Angeles environments studio and specializes in the design of entertainment, retail, mixed-use and hospitality projects. Throughout his 20-year career, Horn's expertise in the conceptualization, presentation and design of interior environments, environmental graphics and identity systems has led to many award-winning projects around the world.
Continue Reading:

Restroom Design

Restroom Design in the Time of COVID-19

Sustainability, Sanitation, ADA: Critical Considerations for Restroom Design
---
---
---
Related Topics: