You Might Like
On FacilitiesNet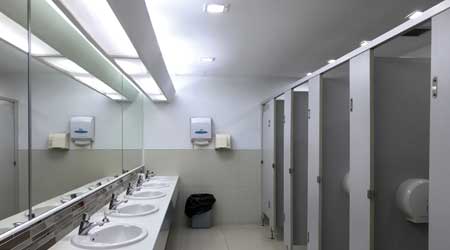 Restroom Technology Upgrades Can Aid Coronavirus Mitigation Efforts
Matching technology and products to space needs can be challenge. Here are some tips.
With user expectations and project timing in mind, managers can move on to the critical question of which products to select for installation in the upgraded space. Undoubtedly, the restroom technology getting the most scrutiny these days allows users to minimize contact with surfaces potentially harboring germs and bacteria.
"Touchless fixtures have gained a lot of traction in restrooms," says Haas. "Not only are they more hygienic and convenient. They are easier to clean, maintain and service. In recent years, the performance and reliability of touchless fixtures has greatly improved with advanced sensing technology, which eliminates the irritation of false and spotty activations.
For managers with organizations that have bottom-line constraints, manufacturers have options.
"If sensor devices are not in the budget, we would recommend retrofitting to antimicrobial coated handles for faucets and flush valves," Danowski says. "Manual faucets could also be retrofit using larger wrist-blade-type handles that may be operated without having to grasp the faucet handle with your hands to operate."
While improved hygiene tops the priority list for many upgrades, facilities are still pursuing goals related to sustainability and, in particular, water conservation.
"Because many property owners and managers have had to tighten their belts in this economy, many are more aware of how water-efficient toilet fixtures can help save money on their water bills," Voorhees says, adding that according to the U.S. Environmental Protection Agency (EPA), restroom fixtures account for 37 percent of total water use in an average building. "In addition, large buildings use 22,000 gallons per building per day, according to the EPA. Newer models of toilets are more efficient, allowing for a reduction of water and utility bills that can reduce costs."
Managers and their organizations also can benefit from additional advances in plumbing product technology.
"Maintenance teams are seeing real, measurable results from adding smart, connected plumbing products to their restrooms," says Dan Danowksi with Zurn. "Using sensors, these products collect data and transmit it to a secure portal where it is analyzed and can be viewed. Reduced maintenance, operational costs and water usage are just some of the benefits achieved."
Adds Lawinger, "Thanks to innovations like the Internet of Things and Bluetooth technology, facility managers are able to effectively monitor their plumbing systems more effectively than ever. With these new technologies, facility maintenance teams can adjust faucet and flushometer settings, monitor usage, and diagnose wirelessly right from their fingertips. Not only do these technological advancements and data diagnostics take the guesswork out of repairs, but they enable facility maintenance teams to save time, lower costs, increase water efficiency and reduce risk."
Matching needs and products
The ultimate challenge for managers planning restroom and plumbing system upgrades is ensuring installed products and finished projects meet the needs of both organizations and occupants.
"Encouraging handwashing is very important," Haas says. "So things like putting sinks at appropriate heights, having deeper sinks that are easy to clean, and ensuring sensors are reliable are of utmost concern. Above all, keeping restrooms clean and maintained will go a long way in encouraging people to wash their hands and building a positive image of the facility."
Finding the sweet spot between organizations and occupants can be difficult, and that is where working with a partner in the planning can help.
"My advice would be to work with a partner that can serve as that trusted advisor to help you find the right products for the right job," Hager says. "As we return to work, things will be different and the trend will always lean towards cleaner, safer buildings.
"There are products available for virtually every application across a spectrum of price points. Things to consider are standardization for ease of maintenance across sites and product availability from your supplier."
Dan Hounsell is editor of Facility Maintenance Decisions.
Continue Reading:

Restrooms

Planning Restroom Upgrades in the COVID-19 Era

Restroom Technology Upgrades Can Aid Coronavirus Mitigation Efforts
---
---
---
Related Topics: