You Might Like
On FacilitiesNet
Planning an Efficient Drain Cleaning Program
Part one of a 3-part article on establishing a drain cleaning program
OTHER PARTS OF THIS ARTICLE
Pt. 1: This Page
Pt. 2:
Manufacturers Can Assist in Developing Drain Cleaning Program
Pt. 3:
Equipment Considerations for Drain-Cleaning Program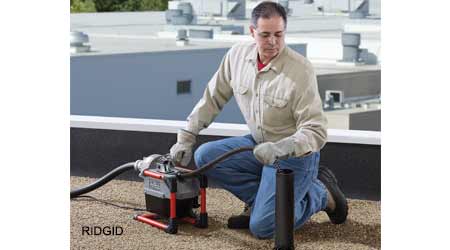 Drain cleaning is an underappreciated activity in many institutional and commercial facilities, but maintenance and engineering managers know that preventing problems with plumbing and piping systems is essential for the safe and cost-effective operation of facilities.
Managers must consider a number of factors when planning an effective drain cleaning program. Specifying products, establishing a maintenance plan, and developing knowledge of drain systems are among the important issues.
Manufacturers of drain cleaning equipment often meet with managers trying to sort out such challenges in their facilities, and know the important questions managers must ask to improve their drain cleaning programs.
Assessing needs
The first step in establishing a drain-cleaning program is to understand department and facility equipment needs.
"One or two machines will typically not cover all possible applications unless you are in a very small facility," says Mark Speranza of Electric Eel Manufacturing Co. One question he recommends managers consider is, "Do we have all necessary equipment that our staff will need to effectively do their jobs?"
He recommends the following products as baseline equipment for a drain-cleaning program:
• a sink machine for 1½-2-inch lines
• an intermediate size machine that typically includes a ½-inch diameter cable that is 50-75 feet in length
• a mainline machine, typically a drum-style unit or sectional cable machine, for 4-6-inch applications
• an electric- or gas-powered high-pressure water jetter to remove grease blockages in kitchens
• a pipeline inspection camera and locating equipment to pinpoint reoccurring problems.
Other important considerations to ponder as part of a drain cleaning programs are the size and age of facilities.
"Engineers and maintenance personnel will need this critical information for planning purposes," Speranza said. "The number of buildings to be maintained will help determine the quantity of machines needed to keep up with demand. Also, the older the plumbing system the more frequently problems may arise as compared to a newer facility with newer plumbing."
With so many different options for drain cleaning equipment available, it is crucial that managers understand the size of drainage pipes and the average distance between access points.
"Knowing the size of the lines will assist in the selection of the correct equipment for all servicing needs," says Brandon Moherman of Ridgid. "All machines will have a minimum and maximum line-diameter range that should be followed. Otherwise, damage to the drain cleaning cables may occur. All drain cleaning machines come with different lengths of cable, so it's important to know the distances between access points to determine the correct cable length."
Continue Reading:

Drain Cleaning

Planning an Efficient Drain Cleaning Program

Manufacturers Can Assist in Developing Drain Cleaning Program

Equipment Considerations for Drain-Cleaning Program
---
---
---
Related Topics:
Comments