New Thinking In Restroom Designs Keeps Office Tenants Happy
Restrooms should be renovated every 10-15 years to keep up with current trends. Here's what's hot right now.
OTHER PARTS OF THIS ARTICLE
Pt. 1: This Page
Pt. 2:
Need For Greater Privacy Influencing Restroom Design
Pt. 3:
Hygiene, Sustainability Key Considerations In Restroom Design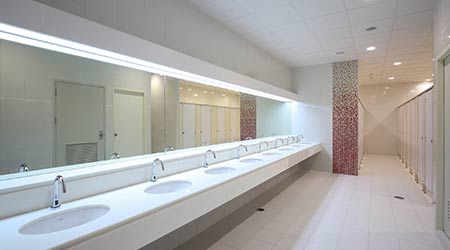 An attractive restroom is a must to secure office tenants, but keeping users happy may be a moving target, as changing occupant expectations and gains in technology influence restroom design.
"When we show space, tenants always look at the restrooms," says Felicia Flores, asset manager for Orlando Central Services.
She is responsible for five office buildings in central Florida. Ideally, a restroom should be renovated every 10 to 15 years, she says; at her company's larger properties, they maintain a schedule of one floor per year, using the same design.
"Restrooms are a core part of everyone's day, and there are some opportunities in any kind of building," says Deniz Ferendeci, an architect and director of building services for Dyer Brown. "Tenants today have so many options out there. Quick cosmetic fixes aren't cutting it anymore."
A potential new tenant can be a reason to upgrade the restrooms — or to add more, says Ferendeci. Facility managers should take into account the increasing density of office floor plans. A few decades ago, he says, the prototype was a perimeter of individual offices for executives or lawyers, who might have one assistant each. Now, the norm is shifting toward the design that tech firms are known for, with rows of adjacent workstations. More workers per floor means more restrooms are needed.
Updating fixtures and finishes
Currently, Flores' facilities are getting rid of 1-by-1-inch tile in favor of bigger sizes that look more contemporary and are easier to clean and maintain. Their norm is now 24-by-24-inch or 12-by-12-inch tiles, held in place with less grout than in the past. Glass tiles on the wall behind the vanity are a contemporary look, says Flores.
For countertops, quartz is the new granite, Flores says, but "marble was a nightmare. We'll never go back to marble." The material synonymous with luxury was hard to clean, stained easily, and required regular polishing. Quartz, she says, never stains and can be cleaned with warm soapy water.
"Manufacturers have really stepped up their game," Ferendeci says. "They've done an incredible job with faux materials." The new generation of tiles look like marble or stone or wood, he says, but are easier to clean and do not need re-sealing.
Lighting is also important, says Ed Portis, a principal with the Little architectural firm, because "everyone wants to look their best in there." If LEDs are used, facility managers should look for lamps with a high color rendering index.
"People don't want a dark restroom," says Brian Malarkey, who leads the interior architecture team of Kirksey, and "a nice even light hitting the face" is particularly important. Because LEDs occupy less space, he says, it is easier to place them around a mirror in shallow profiles, or in a recessed ceiling.
A coming trend, Flores says, may be restroom TVs with controlled programming, similar to what some elevators now have.
As times change, facilities try to keep up. Major employers in Class A office space are adding more family restrooms, says Karl Yrjanainen, engineering principal in HDR's Lawrenceville, N.J., architecture studio, to "give employees and guests more amenities." For the same reason, some buildings are adding showers in restrooms, for employees who ride bikes to work or workout over the lunch hour.
One ammenity that is becoming more common, "mother's rooms" should always be a space separate from the restroom, as specified in the Fair Labor Standards Act. These dedicated spaces for nursing mothers to pump milk do not have to be permanent dedicated space, though they often are. As commonly deployed, the basics are a small room, with a locking door, a comfortable chair, a power outlet, and a small refrigerator.
Continue Reading:

Restrooms

New Thinking In Restroom Designs Keeps Office Tenants Happy

Need For Greater Privacy Influencing Restroom Design

Hygiene, Sustainability Key Considerations In Restroom Design
---
---
---
Related Topics:
Comments