Myths and Misconceptions about Drain Cleaning
Manufacturers offer updates and guidance to help managers make savvy choices of drain cleaning equipment
OTHER PARTS OF THIS ARTICLE
Pt. 1:
Drain Cleaning: Keeping Pipes Free and Clear
Pt. 2:
Drain Cleaning: Understanding Facility Needs and Equipment Options
Pt. 3: This Page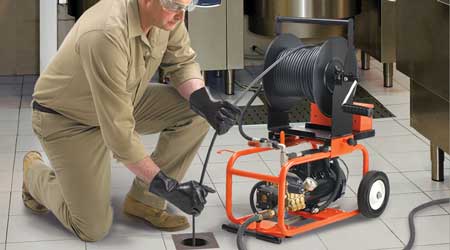 Despite the role drain cleaning machines have played for years in the smooth operation of facilities, myths, misconceptions and missed opportunities related to these products remain.
"One common misconception is that one machine can serve all the various applications," Speranza says. "A facility will have drain lines with diameters from 1 inch to 12 inches and even larger. Machines are typically designed with specific diameters to clean, so a variety of units will be needed to cover all the needs."
Goede points to misconceptions about the skill required to operate machines effectively.
"A big misunderstanding with drain cleaning like many other aspects of the trades is that 'anyone can do it,' " he says. "Professional drain cleaners are extremely skilled at what they do, and something they can complete in an hour may take someone less experienced days to complete. The comments we hear such as, 'I could have done that with a plunger' and 'If I had your tools I could do the same thing' are not an accurate reflection of how skilled these individuals truly are."
As for missed opportunities, Silverman reminds managers that while cable machines are popular drain cleaning options, non-cable equipment can perform well in certain circumstances.
"Consider non-cable machines, like water jets, which are better for clearing grease clogs," he says. "Or consider a water ram, which doesn't use a cable at all."
Continue Reading:

Drain Cleaning 3

Drain Cleaning: Keeping Pipes Free and Clear

Drain Cleaning: Understanding Facility Needs and Equipment Options

Myths and Misconceptions about Drain Cleaning
---
---
---
Related Topics:
Comments