You Might Like
On FacilitiesNet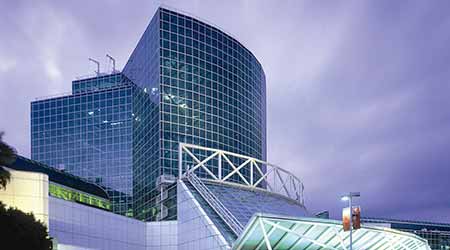 Los Angeles Convention Center
Los Angeles Convention Center Restroom Upgrades Score Big
Part one of a four-part article on Los Angeles Convention Center restroom upgrades
The biggest stars in the music industry gather annually for the Grammy Awards at the Los Angeles Convention Center, a 1-million-square-foot facility that is more than deserving of its rock star status among commercial facilities. The convention center opened in 1971 and hosts more than 350 events and 2 million visitors annually. It earned LEED for Existing Buildings certification in 2010 and LEED-EB Gold re-certification in 2015. The center also receives frequent praise for its sustainability efforts.
Unfortunately, one area of its operations — water conservation — had started to fall behind in recent years.
"I wouldn't say it had been neglected; it just hadn't been capitalized on," says Greg Rosicky, the convention center's vice president of operations.
Faced with a state mandate to reduce water use by 20 percent by the end of this year to combat drought conditions, the convention center responded by replacing nearly 1,000 toilets and urinals in a series of plumbing upgrades and related projects that started in 2015 and were completed earlier this year. The efforts have returned the convention center to its status as a water-savings superstar.

Finding the funding
Before the convention center proceeded with the restroom projects, the facilities team had to present an acceptable budget plan and projected return on investment to the city. Rosicky's team was responsible for scouting manufacturers and specifying products, as well as establishing an acceptable budget plan with the help of rebates from local utilities.
"The first big project — and it took some time to get it off the ground — was the water closet retrofit," Rosicky says. "First, we had to identify which (manufacturers) we wanted to use and work with the department of public works on the rebates application process, which took some time to get finalized. I didn't want to move forward with the project until I guaranteed that we were going to get the rebate."
The convention center secured $250,000 in rebates from the local water provider to help pay for products. Out-of-pocket costs included hiring contractors for installation and totaled $350,000.
"For us to move forward with the project, it almost had to pay for itself outside the installation," Rosicky says. "We ended up only paying for the new toilet seats."
Continue Reading:

Renovations and Retrofits

Los Angeles Convention Center Restroom Upgrades Score Big

Convention Center Thinks 'Outside the Box' for Plumbing Upgrades

Waterless Urinals Among Convention Center Plumbing Upgrades

Making Plumbing Upgrades Work
---
---
---
Related Topics: