You Might Like
On FacilitiesNet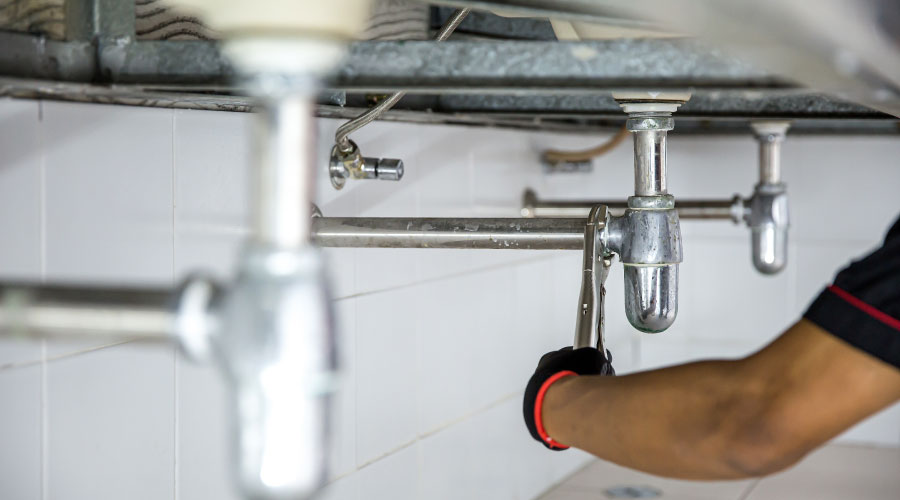 Leaks and Pipe Burts: What Facility Managers Need to Know
Strategies and tactics to prevent these crises from damaging facilities, disrupting operations and creating headaches for managers
If maintenance and engineering managers expect their investments in water-saving technology to deliver the intended benefits over their performance lives, they have to ensure that technicians regularly inspect and maintain the products. This process will confirm they fully shut off when not in use because even a small leak in a water closet can waste up to 30 gallons of water each day.
Even touchless fixtures require technicians to periodically replace batteries, and technicians also need to test them to ensure they deliver the intended quantity of water and that they stop the flow of water fully when they are shut off.
Using information gathered in a water audit, managers can develop a schedule for inspecting and testing water-using devices. One size does not fit all, so it is essential to develop a tailored inspection and testing schedule based on level of use.
To fully devote resources to leak detection, technicians need to conduct regular inspections of all a facility's water-using spaces, including mechanical rooms, to find plumbing leaks. Some of the leaks will be obvious at first glance, but others are likely to be hidden inside equipment or in unoccupied spaces. The WaterSense program from the U.S. Environmental Protection Agency estimates that on average, leaks account for 6 percent of a facility's water use. The cost of a leak goes well beyond the lost water. Leaks can cause extensive damage to equipment, building materials and structures.
Metering is one of the most powerful tools managers have in their water-conservation arsenal. Most institutional and commercial facilities use only one master water meter, but if used properly, these meters can provide valuable information to managers. Water utilities might read the meter only once a month or once every three months, but managers striving to curtail water use can instruct their technicians to read the meter at least weekly. Technicians then can compare these readings to previous readings to uncover unexpected changes in levels of water use.
Pipe bursts
As managers in institutional and commercial facilities located in warmer climates learn every winter, even the most temperate regions of the country can experience temperatures low enough to freeze pipes that are not properly insulated or that are located in spaces that experience prolonged exposure to cold air and high winds.
Effective inspection, maintenance and preparation are critical in preparing facilities for the worst winter storms. Severe weather can vary from below-freezing temperatures and ice storms to heavy snow and ice dams, and all of these elements can wreak havoc and damage on facilities that are not prepared.
Freezing temperatures can affect areas in the Deep South such as Texas, Alabama, Georgia and Florida. The consequences of winter storms include power loss to facilities due to ice that forms on power lines, structural damage to buildings when ice or heavy snow overloads tree limbs, causing them to break off, and water damage from pipes that freeze or burst from exposure to low temperatures.
Unfortunately, too many facilities are not prepared for winter weather and do not have robust emergency plans in place to respond to emergencies. This situation leaves them particularly vulnerable to damage, the need to file insurance claims, and increased chances of being unable to reopen quickly following cold weather.
The leading cause of property damage resulting from winter weather is related to pipes that freeze and burst. To help prevent the freezing of pipes, managers should ensure internal temperatures remain higher than 55 degrees. Pipes are more likely to freeze and burst in vacant facilities due to large swings in interior temperatures and a lack of tenants. Damage can also occur when a pipe bursts and the water lines are not monitored by an automatic excess flow valve that could shut off the flow automatically and prevent water from damaging buildings.
To safeguard pipes from these hazards, managers need to ensure that pipes are adequately protected along their entire length by ensuring they are located within the building's insulation, have insulation on the pipe itself, or feature heated wraps. Facilities that are in northern climates typically are constructed with water pipes located on the inside of the building insulation, protecting the pipes from subfreezing weather.
But water pipes in buildings in southern climates can be more vulnerable to winter cold spells. These pipes are more apt to be located in unprotected areas or areas that are outside of the building insulation, and managers tend to be less concerned with freezing conditions, which might occur only once or twice a season if at all. Pipes in attics, crawl spaces and outside walls are all vulnerable to freezing, especially if facilities have cracks or openings that expose pipes to cold, outside air.
Continue Reading:

Plumbing & Restrooms

Avoiding Disaster: Clogs, Leaks and Bursts 

Leaks and Pipe Burts: What Facility Managers Need to Know
---
---
---
Related Topics: