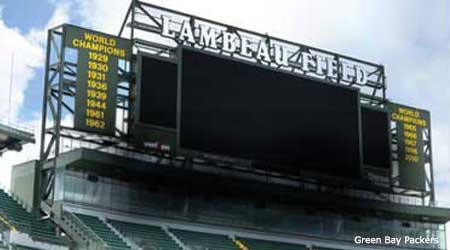 Lambeau Field Upgrades Feature 38 New Restrooms
Part two of a four-part article on Lambeau Field renovation
Though the team had modernized and upgraded Lambeau Field since its opening, the organization knew that modern pro sports fans and sponsors demanded the most modern amenities and opportunities available. With the 2013 expansion project, the team sought to meet and exceed those demands.
"It started in 2011, and we completed it in 2013," Eisenreich says. "Basically, we were looking for things we didn't have or couldn't do in the old stadium." For his part, Eisenreich and his staff knew that the expansion's plumbing systems and restrooms would be essential elements in ensuring the project succeeded.
One early step in the planning was to select the flush valves, faucets and paper and soap dispensers to be used throughout the various restrooms added in the expansion.
"With the south end zone project, we added 38 new men's, women's and family restrooms," Eisenreich says. "They include 171 toilets, 95 urinals, and about 125 lavatories. For about 50 of the toilet and urinal flush valves, we went to electronic products versus manual flush valves. All lavatory faucets are hands-free." The restrooms also feature 108 hand-towel dispensers and about 80 soap dispensers, and the 15 new concession stands feature about 65 new sinks and faucets, of which about 75 percent are hands-free.
One key consideration was minimizing water use throughout the expansion in ways that did not compromise other systems or the visitor experience to the stadium.
"We looked at a number of different options to see what we could do, and we went through the pros and cons," Eisenreich says. "The flow of the faucets is easy to control — how many gallons per flush for toilets and urinals. We tried to grab hold of some of those sustainability benefits that way."
The staff drew on its experiences in other areas of the stadium in selecting the most appropriate products.
"We look at what we have in the facility now to see if it's working and if we've had success with it," he says. "We try to use the same or similar fixtures for several reasons — one, because we did have success with it and, two, so we don't have to stock as many different parts."
They also use field tests to determine the performance of various products.
"If we're looking at something new, we get samples in and actually touch and feel it, and we'll put it in a high-use area for a month or two before we select it to see how it works," he says. "We'll also talk to people that use them. That's how we make our selections. We're looking at performance and the ease of maintenance so we have minimal repairs, and we look at the appearance. Do they fit our needs?"
Field testing was especially important for the 2013 expansion because it encompassed several different types of restrooms with different use levels.
"Every area has a different need," Eisenreich says. "Some fixtures need to be hands-free, and some don't. Some get more abuse than others, so you pick something that might be more durable. Obviously, we're always looking for water savings, so you're looking at low-flow products and those that shut off automatically. There are a lot of different considerations, but it's all really based on the area and the use that it's getting."
Continue Reading:

Project Management: Plumbing & Restrooms

Lambeau Field Expansion Delivers Water Savings and Efficiency to Green Bay Packers' Home

Lambeau Field Upgrades Feature 38 New Restrooms

Lambeau Field Operations Staff Benefits from Past Experiences

Green Bay Packers Renovation Project Produces Water Efficiency
---
---
---
Related Topics: