You Might Like
On FacilitiesNet
Efficient Lighting Systems Key to Restroom Upgrades
Part 2 of a three-part article on plumbing and restroom upgrades
OTHER PARTS OF THIS ARTICLE
Pt. 1:
Water Saving Strategies for Plumbing and Restrooms
Pt. 2: This Page
Pt. 3:
Finding Plumbing and Restroom Products that Perform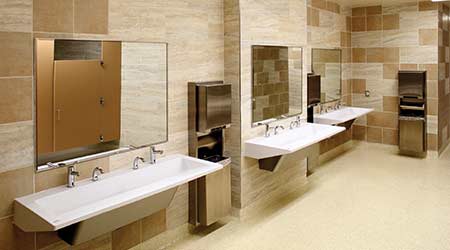 Managers also can reduce operating costs by focusing on lighting when upgrading restrooms. An efficient, high-quality lighting system helps to promote a clean image of the restroom while minimizing energy costs. Most restrooms are seriously overlit, making the area uncomfortable for users and wasting energy for the organization.
Underlit restrooms create dark areas and shadows, also making some users uncomfortable. The typical restroom lighting system uses about 2 Watts per square foot. A new system that uses high-efficiency light sources can reduce this amount by 50 percent.
The development of high-efficiency LEDs and other light sources gives managers the opportunity to reduce energy use while providing more appropriate light levels. Careful design of the system and placement of the fixtures also allows technicians to more easily replace components without having to disrupt operations.
The use of a well-placed occupancy sensor can further reduce energy requirements for lighting. Consider that the average facility restroom is unoccupied 75 percent of the time while its lighting system operates 24 hours per day, 365 days per year. By specifying occupancy sensors, coupled with high-efficiency light sources, managers can reduce the typical restroom lighting energy use by up to 90 percent without interfering with the operation of the facility.
Controlling cleaning costs
Restroom upgrades also give managers the opportunity to reduce cleaning costs through careful selection of components and finishes. How important are cleaning costs? Consider that over the service life of a restroom, cleaning costs will exceed the cost of the fixtures installed. In high-traffic restrooms, cleaning costs will exceed the cost of the entire renovation.
Reducing cleaning costs does not automatically require that managers specify more expensive components and finishes. It does require selecting and carefully placing the most appropriate components.
Consider the room finishes. If a restroom's walls required repainting, workers should use a gloss finish or one that is specifically made to be cleaned. This tactic will reduce the chances of dirt becoming embedded in the paint. Light-colored countertops do not show stains from water as much as dark countertops do. High-polish finishes require more frequent cleaning to keep stains from showing.
Specifying ceiling tiles instead of a solid finish allows workers to more easily replace damaged areas. Since most multi-floor buildings tend to stack their restrooms, ceiling tiles also allow easier access to piping located above the ceiling. The selection of wall and floor materials that resist water and dirt reduce the need to clean as frequently.
Managers should select partitions based on their ability to resist damage from vandalism, as well as from normal use. Materials should be corrosion resistant, and if the partitions are mounted on the wall and ceiling instead of floor, cleaning labor costs will be lower.
Even something as simple as using built-in soap dispensers, paper towel dispensers, hand dryers, and trash containers reduces the time required to clean restrooms. Recessing fixtures also makes them less vulnerable to vandalism. And selecting high-capacity units reduces the frequency with which they must be refilled, further reducing labor costs.
One potential benefit managers often overlook in planning a restroom renovation is the ability to provide adequate storage space. Each restroom or restroom cluster must have adequate storage space for the supplies workers need to stock and clean the restroom. Without that storage space, housekeeping personnel will waste time transporting supplies from remote locations.
Continue Reading:

Plumbing & Restrooms

Water Saving Strategies for Plumbing and Restrooms

Efficient Lighting Systems Key to Restroom Upgrades

Finding Plumbing and Restroom Products that Perform
---
---
---
Related Topics:
Comments