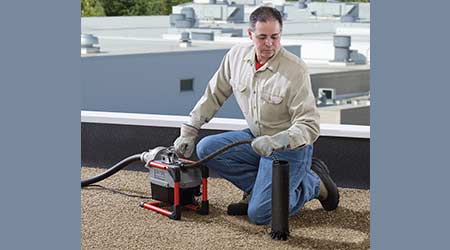 Drain Cleaning: Understanding Equipment Warranties
Managers and technicians who understand the best ways to use and maintain drain cleaning equipment can ensure effective, long-term use
While drain cleaning machine components to break down and wear out, it is important for maintenance and engineering managers to know what their factory warranty covers and what it does not.
"Different manufacturers offer different warranties at different lengths," says Marty Silverman with General Pipe Cleaners. "Mostly, the warranties for everybody cover defects in workmanship and not wear and tear. Most items we see come in that are out of warranty are wear items, like acid on a snake or a broken pipe tearing up a cable.
"Things that are in warranty tend to be structural steel failures and things like that. Maintaining equipment and proper usage tend to reduce the number of issues people have with their equipment."
Another way technicians can make sure their machines remain covered by the factory warranty is to routinely check the components that are covered by the warranty. Other common warranty failures involve power cords and the ground fault circuit interrupters (GFCI).
Technicians should "check the power cords for any cuts and test the GFCI to make certain it is functioning properly," says Mark Speranza with Electric Eel. "Most GFCIs will have a test and reset button in which the operator can make sure the device is working properly before each use. Checking the GFCI before each use should be standard operation."
"GFCIs are typically purchased by manufacturers thousands at a time, and occasionally a unit will fail on the first or second use,. They can also be damaged in transport or use. The (factory) warranty would come into play in this type of situation."
—Ryan Berlin
Continue Reading:

Drain Cleaning

Drain Cleaning: Maintaining the Tools of the Trade

Drain Cleaning: Ensuring Effective, Long-Term Equipment Use

Drain Cleaning: Understanding Equipment Warranties
---
---
---
Related Topics: