You Might Like
On FacilitiesNet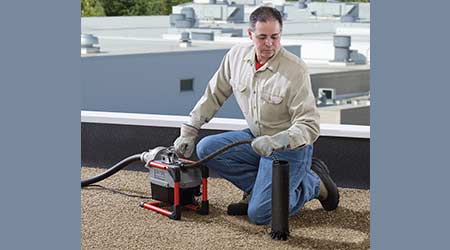 Drain Cleaning: Maintaining the Tools of the Trade
Managers and technicians who understand the best ways to use and maintain drain cleaning equipment can ensure effective, long-term use
Freely flowing drains, pipes and plumbing systems are essential to the smooth operation of institutional and commercial facilities. When a problem arises with these components and systems, the situation can get messy in a hurry.
Front-line technicians who understand the proper use of drain cleaning equipment can alleviate any issues quickly and efficiently. Just as importantly, their proper use of the equipment can the performance lives of drain cleaning equipment.
If technicians do not properly use drain cleaning equipment — jetters, water rams, cable machines, augers, and sectional machines — the equipment will wear out, break down and eventually require replacement sooner rather than later.
Matching needs, equipment
For technicians to properly address any drain or plumbing problem, they need to fully understand the best ways to effectively and properly use the equipment. A number of common mistakes in equipment use lead to breakdowns and other issues, and the results generally make any situation worse.
"There's no such thing as one (tool) for every job," says Marty Silverman with General Pipe Cleaners. "The easiest ways to get into trouble are if the machine is used in the wrong size drain line, if it's not properly maintained, and if safety procedures aren't followed."
"If a small sink machine is used in a large line, the cable will tangle up. If a large machine is used in a small line, the cable will get stuck."
Each type of drain cleaning machine has its intended use and purpose, and it is essential to the function of the machine that technicians use them properly.
For both drum and sectional cable machines, the most common misuse is over-torquing the cable.
"It is important to pay attention to what the cable is telling you," says Chris Schmauder with Ridgid. "If too much torque builds up, the cable is at risk of flipping over or breaking."
In addition to avoiding over-torquing, Schmauder suggests technicians know the distance between the point of entry to the pipe and the clog by estimating distances of pipe.
"Before starting a job, a technician should roughly map out pipe distances and note transitions in sizes," he says. "Being surprised by a 2-inch pipe transitioning to 4 inches or a 4-inch pipe to an 8-inch pipe could get you in trouble, as you may no longer be using the right size cable for the right size pipe."
When technicians use water jetters improperly, damage can occur in the hose.
"If the hose is rubbing along sharp edges or the pulse mode is used while the hose slides along concrete, the life of the component will be greatly reduced," Schmauder says. "Technicians can also experience blowback if they are not cognizant of what they are doing. This is less of a risk to the equipment, but can make one heck of a mess quickly."
While some issues are more common than others, equipment will eventually break down and need replacing.
"Probably the most common issue is with cables," says Mark Speranza with Electric Eel. "Even if the machine is used properly, cables become worn with time and use and will have to be replaced. Cables can be repaired in the field with screw in fittings that do not require any welding, which helps reduce cost."
Depending on the use of and wear on the machine, some parts might tend to break down more quickly than others.
"Certain environments create a lot more were on the machine," Silverman says. "Cast iron pipes create a lot of friction and can wear out components faster than a plastic pipe. Depending on the machine, some parts that tend to wear out quicker than others are cutter heads, hoses, nozzles and clutch jaws.
"Depending on how rough the line is and if the equipment is being used properly will determine how long the equipment will last. Proper maintenance can also help ensure the equipment will last."
Continue Reading:

Drain Cleaning

Drain Cleaning: Maintaining the Tools of the Trade

Drain Cleaning: Ensuring Effective, Long-Term Equipment Use

Drain Cleaning: Understanding Equipment Warranties
---
---
---
Related Topics: