Drain Cleaning Equipment Considerations
Understanding facility, equipment and training needs can help managers specify equipment that performs.
OTHER PARTS OF THIS ARTICLE
Pt. 1:
Determining Common Causes of Plumbing System Clogs and Backups
Pt. 2: This Page
Pt. 3:
Plumbing and Piping: Preventing Problems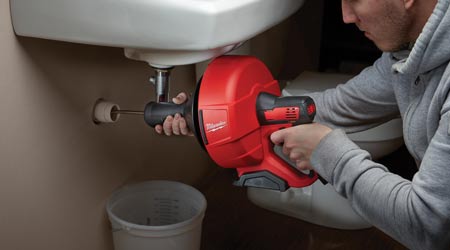 The right tool for the job
Once technicians locate a clog, it is important that they act swiftly to resolve the issue. Depending on the cause of the blockage, different clogs require different tools. The most appropriate solution for a paper product clog might not be the best solution for a grease clog, and vise versa.
Manufacturers have designed the latest generation of drain cleaning equipment to put more technology, power and flexibility in the hands of technicians dealing with plumbing and piping problems. For example, in recent years, manufacturers have introduced cameras in the hopes of taking the guesswork out of drain cleaning.
"The most significant advancement we've seen has been the ability to visually inspect a line," says Glen Chartier with Ridgid. "Streaming and recording footage allows lines to be viewed before and after drain cleaning by all levels of management, regardless of locations, to get a better understanding of the blockage and ensure it has been completely removed."
Using a camera to inspect lines allows technicians to accurately diagnose problems.
"You used to have to guess what was happening based on your experience and also what the snake you were putting down the drain was doing and how it was reacting," Dunbar says. "A lot of time, out of default, people used to say, 'We're going to have to rip the whole pipe up and replace the whole thing.' Now with cameras, people can accurately diagnose the issue to pinpoint a solution."
Whether a job requires a snake-style machine or a jetter, managers who understand drain cleaning options can specify the most appropriate equipment to help technicians work effectively and efficiently.
One of the most important components of snake-style equipment is the cable. Technicians use the cable portion of the tool to physically clear the blockage. Whether the equipment is handheld or battery powered, the cable gets the job done.
"If you don't have a quality cable, you don't have anything," Chartier says. "It would be like buying a car without the tires. Without a quality cable, it is more likely to snap in a drain line and could become a frequent replacement expense."
The choice of drain cleaning equipment can be the difference between failure and success. For example, when it comes to grease clogs, snake-style machines might not work as effectively as a jetter would. If a technician uses a snake-style machine on a grease blockage, the grease clog can reform over time and fill the pipe.
"You can open up a grease clog in a pipe with a snake-style machine, but it usually isn't a permanent fix," Dunbar says. "A jetter is the right tool for the job to get grease out of a pipe. When people come through a pipe with a jetter, if they take the time to do it properly, it can look like a new pipe. The combination of cameras and jetters have changed the drain cleaning industry."
Talking training
No matter the type of blockage technicians face, they should not begin a job without proper training in safe equipment operation. Drain cleaning equipment and the contents of the clogged drain can be dangerous. Cables can break, pipes can leak, and spills can occur. For these reasons, safety and proper training are essential.
Managers "should always make sure that employees know how to operate the equipment before they use it," Beierle says. "Working with these wire springs and the biohazards within a drain can be very dangerous."
If technicians have not used a piece of equipment, managers need to commit the necessary time to properly train them on using the equipment safely.
"Like any other piece of equipment, proper training as to the operation of the machine is key not only to the successful completion of a job but to the safety of the operator," says Mark Speranza with Electric Eel Manufacturing. "Manufacturers are typically very concerned with the proper operation of their equipment and often will offer training materials, as well as on-site demonstrations and training of personnel."
Continue Reading:

Drain Cleaning

Determining Common Causes of Plumbing System Clogs and Backups

Drain Cleaning Equipment Considerations

Plumbing and Piping: Preventing Problems
---
---
---
Related Topics:
Comments