Convention Center Thinks 'Outside the Box' for Plumbing Upgrades
Part two of a four-part article on Los Angeles Convention Center restroom upgrades
OTHER PARTS OF THIS ARTICLE
Pt. 1:
Los Angeles Convention Center Restroom Upgrades Score Big
Pt. 2: This Page
Pt. 3:
Waterless Urinals Among Convention Center Plumbing Upgrades
Pt. 4:
Making Plumbing Upgrades Work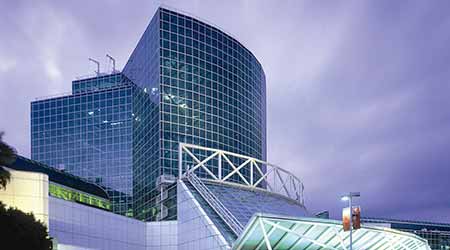 Los Angeles Convention Center
Convention center officials already had made great strides in saving water, so meeting the mandate required creative thinking among the maintenance and engineering staff.
"We already had been pretty conservative with our water and have been LEED certified for quite some time," Rosicky says. "So we had to look outside the box to where we could assist in that endeavor."
Convention center managers undertook a number of water-conservation projects that were not related to the facility's plumbing systems in order to achieve its goals. One project involved converting 30,000 square feet of landscape turf into drought-tolerant landscaping, which ended up saving an estimated 320,000 gallons of water annually.
Grounds crews generated more savings when they replaced 80 percent of the irrigation system sprinkler heads with new models in order to eliminate leaks. Technicians also installed aerators on almost 400 kitchen and restroom faucets, reducing the flow from 2-3 gallons per minute (gpm) to 0.5 gpm.
While these upgrade projects delivered savings, a series of restroom retrofits to change out urinals and toilets delivered the largest reductions in water use.
The most significant plumbing project converted more than 700 toilets from standard- to low-flow models. A second plumbing project replaced almost 300 urinals and reduced their gallons per flush (gpf) rates, while a third project replaced urinal troughs in smaller restrooms with hybrid urinals.
The plumbing and restroom projects contributed heavily to the convention center's overall reduction efforts. Since 2013, the facility has reduced its water use by 15 percent — a reduction of 5 million gallons per year, a pace that Rosicky says puts the facility on pace to surpass the 20 percent mandate by the end of 2017.
"All city departments were being looked at to try and do what they could to conserve water," Rosicky says. "That, in tandem with monetary savings, was the reason that we were able to move forward and get funding for the projects.
"That was the other part of this whole puzzle. You can't move forward unless you've got the money to do these projects. Because we were able to get funding from the city of Los Angeles, we were able to accomplish these projects."
Continue Reading:

Plumbing & Restrooms

Los Angeles Convention Center Restroom Upgrades Score Big

Convention Center Thinks 'Outside the Box' for Plumbing Upgrades

Waterless Urinals Among Convention Center Plumbing Upgrades

Making Plumbing Upgrades Work
---
---
---
Related Topics:
Comments