$34 Million In Upgrades Keeps Festival Grounds in Top Condition
Part 1 of a four-part article on upgrades to festival grounds
OTHER PARTS OF THIS ARTICLE
Pt. 1: This Page
Pt. 2:
Improving Visitor Experience Goal of Festival Grounds Upgrades
Pt. 3:
Wisconsin Weather Presents Festival Maintenance Team Many Challenges
Pt. 4:
SIDEBAR: Policies in Transition — Transgender Restroom Access
Pt. 5:
CASE STUDY: Plumbing Upgrade Slows the Flow of Water — and Dollars
Pt. 6:
CASE STUDY: (Not) Making a Splash: Flushometer Solves Hospital's Problem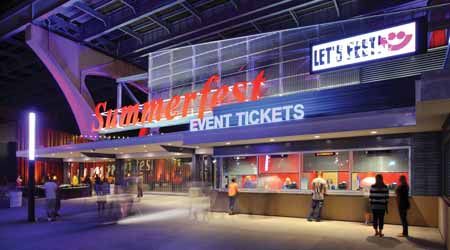 Robert Gosse knows the stampede is coming, and he cannot stop it. Nor does he want to. The "stampede" is the 850,000 people who annually attend Milwaukee's Summerfest, which bills itself as the world's largest music festival.
"We see 850,000 people in 11 days, compared to a hospital, which might see 850,000 people in a year," says Gosse, director of design and construction with Milwaukee World Festival Inc. His department is responsible for facility maintenance and operations, as well as design and construction projects.
"When it's noon on Wednesday, the gates open, and everything just gets hit by the worst-case scenario," he says. "We get 85,000 people over 12 hours. The power usage goes from almost nothing to almost as high as it can go. Every toilet is getting flushed repeatedly. Every blade of grass is getting stepped on. Everything is being put to its maximum test for 11 days."
Started in 1968, Summerfest annually draws an international crowd that converges on the 75-acre site. The crowds for Summerfest — as well as for seven ethnic festivals that bring annual attendance at the site to 1.5 million — have taken their toll on the facilities, which have been upgraded and expanded in phases over the years. The most recent $34 million upgrade project in 2011 and 2012 involved 12 facilities — stages, restrooms, the box office and ticket buildings, and other facilities — on the south end of the grounds.
The ages of the facilities and their histories in some cases present some challenges.
"Most of the buildings have been constructed in the last 30 years, with the Marcus Amphitheater being about the oldest building," Gosse says. "A few buildings are somewhat historic. Our old administration building is actually the terminal building when this was an airport in the 1920s. We also have a handful of buildings that were part of the Army base when this was a Nike missile site in the 1950s."
Gosse's array of facilities responsibilities mean he is involved in their design, management and operation from the beginning.
"My department is design and construction," he says. "I'm a licensed architect with a background in architecture, a little bit more on the facilities management end of it. We have done projects in-house. We built a new office building, and we did the architecture and the drawings, working with an outside engineer, to produce the construction documents for that building.
"What we typically do, and what we did on the south end, is serve as the owner's rep. We manage the outside architects and contractors, and we bid out the construction services, and we oversee all of that."
Gosse also oversees maintenance and operations for the site's facilities.
"My department also oversees all of the maintenance relative to outside contractors," he says. "If things are broken on a larger scale, then I manage electricians and plumbers and carpenters and masons and iron workers to do all of those bigger things.
"Our operations department has guys who can do any light maintenance work. So if something needs adjusting — a door latch on a toilet partition, for example — they do that. If it's anything larger than that, it gets kicked over to my department. I typically specify the products that we want."
Continue Reading:

Project Management

$34 Million In Upgrades Keeps Festival Grounds in Top Condition

Improving Visitor Experience Goal of Festival Grounds Upgrades

Wisconsin Weather Presents Festival Maintenance Team Many Challenges

SIDEBAR: Policies in Transition — Transgender Restroom Access

CASE STUDY: Plumbing Upgrade Slows the Flow of Water — and Dollars

CASE STUDY: (Not) Making a Splash: Flushometer Solves Hospital's Problem
---
---
---
Related Topics:
Comments