Matching Concrete Coatings to Facility Needs
Expanding product options and growing pressure to protect concrete surfaces can mean complex decisions for managers
OTHER PARTS OF THIS ARTICLE
Pt. 1: This Page
Pt. 2:
Looking for Concrete Trouble Spots
Pt. 3:
Concrete Coatings: Effective Application for Long-Term Performance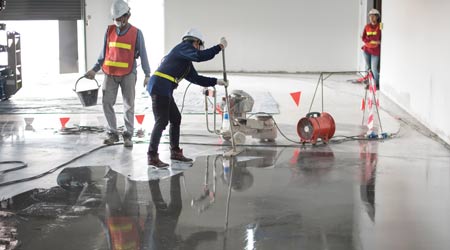 Concrete surfaces play a central role in institutional and commercial facilities, from creating a first impression for visitors to providing safe, reliable surfaces for walking to and around buildings.
The challenge for maintenance and engineering managers is ensuring the safe condition of these surfaces to prevent potential costly problems, including slips and falls and premature replacement. As these products evolve, managers who specify hardscape coatings need to understand what works best for their substrates because their product options are expanding.
"Managers today have more choices than they ever have," says Johnnie Elliot with Rust-Oleum. "It doesn't matter if they are looking for a protective finish or a decorative finish, metallics or stains. There are just more choices than there have ever been. There was a time when you had to choose between a protective coating or a decorative coating, and now you can get them both in the same system."
Two-in-one systems
With as many choices as that have in today's market, in order for managers to specify the most effective coating for a concrete project, they first need to understand important changes in the latest generation of coatings.
"Recent advancements in coatings and flooring systems have increased strength, chemical resistance and abrasion resistance," says Kyle Tierney with Stonhard. "In addition, there's been a greater focus on the environment and the impact these systems have on the environment. Green coatings and systems have been developed that provide better indoor air quality, utilize recycled and rapid renewable materials, and have low (volatile organic compounds) content."
In addition to improved strength and sustainability, the latest concrete coatings also feature a technology that might be familiar to many managers.
"Most of the positive changes (in coatings technology) have been in cure times," says Scott Thome with Niagara Machine. "When evaluating a protective coating system, the cure rate needs to be considered. We are seeing the use of an old but proven technology brought into the field.
"Using high-intensity ultraviolet (UV) light as the curing mechanism has been around since the 1960s. Many facilities that utilize a protective coating are taking advantage of the speed that UV cured materials provide. Now there are UV-cured floor coatings that dramatically reduce downtime and are much less intrusive to your production process. Once the protective coating is applied to the floor, a portable UV curing light is rolled over the coating, curing it instantly. As soon as the installer has cured the coating with the light, the floor can be put back into service. There is no wasted time waiting for a chemical cured material to cure."
Whether a manager prefers a decorative coating, a protective coating or a combination depends on the setting and application.
"If something decorative is what you're looking for, then you're probably talking about foot traffic or light use of a forklift," Elliot says. "Absolutely you can get beautiful decorative finishes that will protect against that kind of use, and you don't have to sacrifice decoration for protection.
"If we are talking about a setting with heavier use, typically decorative finishes aren't as important, so you would be sacrificing decoration for protection in some of those settings."
Continue Reading:

Supplier Perspectives: Paints and Coatings

Matching Concrete Coatings to Facility Needs

Looking for Concrete Trouble Spots

Concrete Coatings: Effective Application for Long-Term Performance
---
---
---
Related Topics:
Comments