Advances in Paints and Coatings Have Long-Term Benefits
Specifying to meet facility sustainability needs means staying abreast of changes in products and applications
OTHER PARTS OF THIS ARTICLE
Pt. 1: This Page
Pt. 2:
Paints and Coatings That Address Environmental Issues
Pt. 3:
Specifying Paints and Coatings For Facility Needs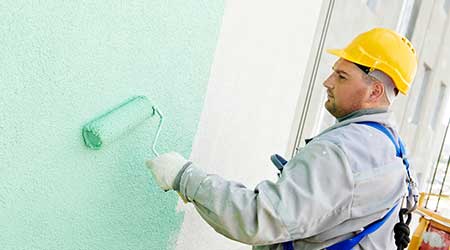 New generation of paints and coatings is offering maintenance managers a range of potential benefits that were unavailable only a few years ago. In order to meet user demands related to ease of application, appearance, durability and sustainability, manufacturers have reformulated existing products and introduced new ones.

These advances put an even higher priority on two challenges facing managers who specify these products for their institutional and commercial facilities: staying abreast of advances in paint and coating formulations and matching new-generation products to the specific needs of their buildings.

Focus on formulations

Social responsibility has become an increasing concern among both managers and manufacturers as they seek to continuously minimize harm to the environment and improve their image. Many of the enhancements in new paint and coating formulations involve reducing volatile organic compounds (VOC).

Earlier efforts by manufacturers had focused on VOCs in liquids that are released as paints dry. Over the past 30 years, 90 percent of VOCs have been eliminated from paints and coatings, aided by state VOC emissions standards, some of which are more stringent than federal standards.

Now scrutiny has expanded to include enhanced additives that yield long-term absorption from the air of harmful compounds. The U.S. Environmental Protection Agency (EPA) is considering tightening the ozone level standard from 75 parts per billion (ppb) to 65-70 ppb. As this decision nears, manufacturers are formulating new products to comply with the most stringent rules. One side benefit for managers is formulas with even lower VOC levels. LEED, the green building certification rating system, includes points for meeting low VOC standards.

Additional advances in new zero-VOC latex paints include using baking-soda-like technology to reduce indoor odors. No silica is added, so it also can withstand frequent washings without losing its odor-reducing properties. It also has antimicrobial properties, so it resists mildew formation, and it offers easier application and better durability and hide characteristics.

Comprised of a primer with high-adhesion properties and a topcoat, it is environmentally friendly and is low VOC and free of hazardous pollutants. It also helps meet stringent regulatory demands, and it resists strong acids and strong bases. It is unaffected by solvents up to 300 degrees, and workers can apply it in a range of thicknesses with standard spray-painting equipment.

Water-based formulations with natural additives now exceed the sustainability performance of their oil-based counterparts. As a result of this growing trend, water-based paints now represent about 80 percent of the market, while oil-based paints represent 20 percent.

Sustainability demands also are driving the development of other new waterborne paints, which are 80 percent water with other solvents, such as ethyl glycol. These paints are broadening applications to prevent metal corrosion as an option to more expensive metal alloys.
Continue Reading:

Paints & Coatings

Advances in Paints and Coatings Have Long-Term Benefits

Paints and Coatings That Address Environmental Issues

Specifying Paints and Coatings For Facility Needs
---
---
---
Related Topics:
Comments