4 Strategies for Balancing Facility Outsourcing Quality and Cost
Outsourcing must bring value to the organization. Here's how to use outsourcing to ensure a successful outsourcing plan.
OTHER PARTS OF THIS ARTICLE
Pt. 1:
Studies Show Shifting Reasons for Facility Outsourcing
Pt. 2: This Page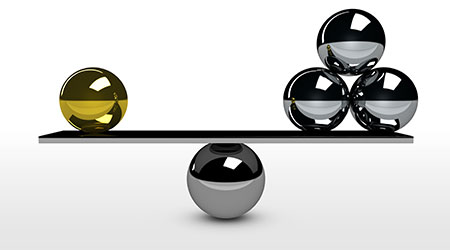 While cost savings is a universal outsourcing goal, the point that it is not the only goal is supported by the KPMG research. KPMG found that among more sophisticated buyers of facility management outsourcing services, there is an increased effort to identify how best to use provider services to bring more value to the business and better support strategic initiatives. The key for facility management organizations is to create a strategic sourcing plan that is vetted by customers and senior executives, and serves as the guidance document for the outsourcing process. While there are numerous characteristics of a successful sourcing plan, four of these characteristics stand out as key to achieving the desired sourcing outcome.
1. Create a strategic sourcing steering committee. Once a facility manager has received notice to proceed with the development of a request for proposal for outsourced services, it is essential to involve customer groups and senior management in the development process. A strategic sourcing steering committee helps the facility manager (and the procurement folks) determine what attributes an outsource firm needs to possess in order to be successful within the corporate environment; and vets the scope of work, performance metrics, and evaluation criteria for selecting a provider. During the sourcing process the steering committee serves as the voice of the enterprise to the facility manager. Once prospective bidders submit their proposals, the steering committee also participates in evaluating and selecting a vendor. Including customers and executives in the process from day one solidifies their interest in the outcome, thus making them vested in the success of the process as well as the end result. Throughout the process the steering committee acts as agents for the facility manager by helping to market the service provider concept to their respective organizations and paving the way for a smooth transition to provider-based service delivery.
2. Analyze corporate vision and customer requirements. Many well-intentioned outsourcing efforts have failed due to lack of up-front attention to the corporate view of where the facility management organization is headed and how strategic sourcing fits into the overall picture. Where the facility management enterprise is headed needs to be analyzed in relationship to the overall corporate vision to make certain the facility management organization's goals and objectives are in sync. Once that is determined, and the facility management organization has created its own vision and direction, the needs of client organizations, which are impacted by the overall corporate direction and an outsourcing relationship, should be considered. Client satisfaction with facility management service delivery will be a critical success factor in outsourcing. Based on this analysis, the facility manager can determine a service delivery approach as a component of the sourcing process.
3. Analyze financial positives and negatives associated with outsourcing. Facility management organizations have been known to proceed with outsourcing arrangements based solely on the impression that sourcing firms can provide the same or better services at equal or lower cost. This assumption is not always a correct one. Where these organizations fall short is in their failure to perform sufficient analysis on the real costs to perform a specified set of services in-house versus the cost of having an external service provider perform them. Another mistake is developing a scope of work for the proposed sourced services that is not a true reflection of the service expectations. It is critical that an apples-to-apples comparison be made. If the scope of services and the categories of costs for supporting the services cannot be identified, then it will be almost impossible to perform a fair comparison with what the external market offers.
There is no question that hidden costs occur with any transition to an outsourced provider. When facility managers think about in-house they typically tend to think about labor, material and equipment costs in addition to associated costs such as training, insurance, administrative overhead, travel, and inventory. What tends to be forgotten are the intangibles related to historical knowledge of equipment in older buildings, or services performed by in-house staffs that are not necessarily included in specific position descriptions. It takes an external provider time to "get up to speed" with respect to learning about corporate culture, building systems, internal operating procedures — and the costs associated with this "ramp-up" time will be charged to the facility management organization.
On the other side, provider costs will incorporate labor, materials and equipment, general and administrative costs, subcontractor costs (plus mark-up), profit, bonding and insurance at a minimum. If facility managers specify an accurate scope of work that includes the full spectrum of services and includes learning curve costs and some risk/incentive pricing guidelines, they may find the true provider costs are equal to or greater than performing the services in-house.
4. Structure key performance indicators and service level agreements. Facility managers have become increasingly savvy about how to link service expectations associated with quality and rewards to providers based on performance. According to the KPMG survey, organizations are using some form of a balanced scorecard with associated key performance indicators to track and measure provider performance against targets established for financial, customer satisfaction, and operational categories. These key performance indicators are the continuous improvement link between controlling or reducing costs and delivery of successful, quality facility management services. At the same time, strong service level agreements can lead to better alignment between provider delivery and strategic goals and plans. Negotiating service level agreements that are tied to both corporate and customer requirements ensures that all parties understand the relationship between expectations and commitments for service. Service level agreements also can be used by facility management organizations to structure risk and reward strategies for the outsourcing relationship.
The road to successful outsourcing is not without bumps and potholes along the way. These challenges, can be managed by the facility manager through thoughtful dialogue and careful development of a strategic sourcing plan. There is no need to sacrifice the quality of facility management service delivery for the desire to control or reduce operating costs by outsourcing. They have a synergy that makes it possible to achieve both.
Stormy Friday (stormy@thefridaygroup.com) is founder and president of The Friday Group, an international facilities services consulting firm. She is a member of the ProFMI Commission, a governance body that serves as an advisory committee for the Professional Facility Management Institute's (ProFMI) activities. Friday is the co-author of the book, Quality Facility Management.
Continue Reading:

Outsourcing

Studies Show Shifting Reasons for Facility Outsourcing

4 Strategies for Balancing Facility Outsourcing Quality and Cost
---
---
---
Related Topics:
Comments